There was a time when cryptocurrency mining was feasible, but that time has passed. But you don't have to invest in expensive equipment just to mine crypto, you can just benefit from crypto through cryptocurrency apps!
Through sophisticated mobile solutions and apps, cryptocurrency is no longer this vague, unwieldy asset class or fad. All you need is your smartphone to access the best cryptocurrency apps to get you started with crypto investing—whether to buy, sell, trade, earn high percentage interest or other types of passive income.
The type of app you need will depend on your approach to crypto: Do you want to buy and hold, or actively trade? Are you looking for a stable app for mobile trading, a platform with the lowest fees, or simply the best apps to buy Bitcoin?
We will break down the types of crypto apps and list down the best crypto apps per category. Read on!
Crypto apps: What are they and how do they work?
Cryptocurrency apps are applications downloaded into mobile devices to help manage your cryptocurrency portfolio. Crypto apps, depending on the type, can help you buy, sell, or trade on crypto on-the-go, track crypto prices real-time, even get tokens for free.
Not all crypto apps are made equal. Factors like fees, interface, crypto assets, coin pairings among others are important to know so you can gauge your potential to profit from your crypto investment.
Availability in your region may also vary. For instance, the best cryptocurrency apps UK may be banned in your country. Some apps might not be available to customers in a certain country over regulatory issues. This means the best crypto apps in Asia may differ from the best crypto apps in Nigeria.
Types of crypto apps
To help you understand the various services and offerings as well as limitations of a cryptocurency app, here are the different types of crypto apps and a brief description of each one:
Crypto trading apps
Crypto staking apps
Crypto tracking apps
Wallet crypto apps
Crypto news apps
Crypto airdrop apps
Crypto trading apps
Crypto trading apps or crypto exchanges are the most popular kinds of mobile apps for digital currency. Some of the best crypto exchange apps lets you buy, sell or trade crypto within the platform, so they usually offer numerous crypto assets and pairings—usually crypto-to-crypto, fiat-to-crypto (and vice versa) or both.
Top crypto apps like Binance and eToro are trading apps. Most trading apps charge fees for transactions, but there are 0-fee crypto exchanges like Phemex which pioneered fee-free crypto trading for customers to maximize profits.
Often you can connect your bank account or credit card to purchase digital currencies. This makes it easy for you to buy BTC or AltCoins with fiat currency like USD for US crypto investors or GBP for crypto users in the UK.
Interest-earning crypto accounts are different from your typical wallet. Apps like YouHodler and Nexo offer crypto storage in their platform where your digital currencies can earn interest, sometimes at a compound interest rate. These apps usually boast top-notch security to protect customers' crypto assets.
Interest-earning features from crypto apps are great for crypto holders as well as traders who don't want to short their crypto assets. Transfer usually takes minutes and you can always withdraw your crypto into a non-custodial Wallet along with all the interest accrued.
Crypto loan apps
Crypto loan apps are good crypto apps for investors looking for liquidity in crypto assets without resorting to selling or paying steep taxes as a result. Since long-term sales get lower tax rates, it's normal for crypto investors to hold on to their crypto assets for a year or more to take advantage.
In the meantime, crypto loan apps allow customers borrow against their crypto to keep holding period intact while getting spending capital.
Crypto staking apps
Staking is when a user agrees to lock or hold his funds in a crypto wallet to support in the operations and security of a proof-of-stake (PoS)-based blockchain network. With proof of stake, the network randomly rewards participating users based on staked amount.
Even though staking is similar to crypto mining, crypto staking apps remove the high cost of mining which has its pros and cons. PoS is more scalable and allows speedy transactions. As with any investment activity in crypto, staking is high risk with the possibility of losing the digital assets you staked.
Crypto tracking apps
Crypto tracking apps provide real-time data on crypto values. Even though crypto exchanges typically have this feature in their platform, crypto tracking apps are helpful for non-traders who are looking for a simple tool to help keep track of their crypto portfolio and crypto asset prices.
Wallet crypto apps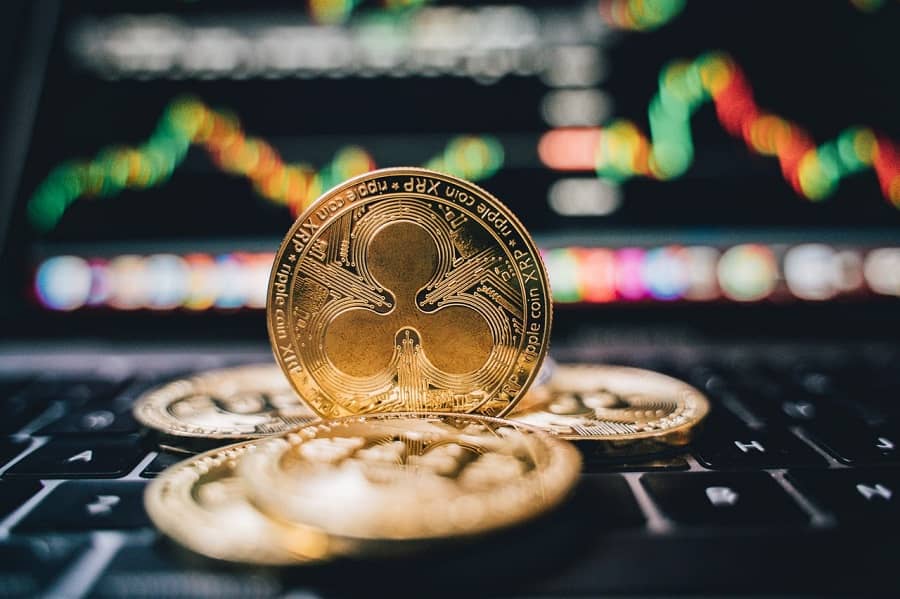 Wallet crypto apps differ from interest-earning accounts. Simply put, a crypto wallet app helps store your crypto and manage private keys. These are usually non-custodian wallets which gives you 100% ownership of your cryptocurrency.
You have probably heard the phrase "Not your keys, not your coins." This just means that if you store your crypto assets in a crypto exchange app or other third-party custodian, there is no ownership guarantee.
Plus, even if you store your funds in the best crypto exchange app for Android or iOS, if anything happens to the platform, gets hacked or frozen by regulators, then you could lose your funds!
To avoid this scenario, crypto investors typically have a separate hardware wallet or wallet crypto app where they can store their crypto assets offline.
A crypto wallet or digital wallet keeps track of encryption keys which are used for digital transactions. It can also keep a unique blockchain address for your assets.
Crypto news apps
Crypto news apps basically provide updates and news on stocks, forex and cryptos, such as Bitcoin and Ethereum. These apps are usually online and updated 24/7, including holidays.
Due to the volatility of cryptocurrency, it is crucial to have accurate, reliable information at all times so investors can effectively manage their portfolio. The types of information found in these apps are usually more in-depth than just prices and statistics.
For example, it helps to know if one of the best crypto apps in India has been banned or if a platform is tanking so you can take out your assets before they are irretrievable.
Crypto airdrop apps
A crypto airdrop is a crypto marketing scheme which startups use to attract users or participants. An airdop involves sending Bitcoins or AltCoins to a crypto trader's digital wallets, usually for free or in exchange for promotion.
Crypto airdrop apps notify you about upcoming airdrop events and provide relevant information on how you can avail this promo. This tactic is a good way into crypto investment or if you want to augment your crypto funds.
There are several airdrop apps you can use, just search for crypto airdrops on best crypto apps for iOS or best crypto apps for Mac.
Here is our selection of top crypto apps in each category
Now that you have a basic grasp on cryptocurrency apps, here is a rundown of the best cryptocurrency apps in specific categories, such as the best apps to buy crypto on or best for crypto storage.
Read on to find out which app is best for cryptocurrency categorized by type of application.
Coinbase – Crypto trading apps for beginners
eToro – Crypto trading apps without owning the coins (CFD's) and beginner-friendly
Binance – Largest crypto trading app in the world, largest choice of Altcoins, small fees, high security
Phemex – Crypto trading app with 0 fees
YouHodler and Nexo – Best apps to earn interest on crypto
YouHodler and BlockFi – Best crypto loan apps
Kraken and Binance – Among the best crypto staking apps
Cointracker – A great crypto tracking app
Edge [ Airbitz ] – Very good wallet crypto apps for both Apple iOS | Google Android
Blockfolio – Best crypto news app
Airdrops – Best crypto airdrop alerts app
Coinbase
Best crypto app for: Beginner crypto investors
Coinbase is the best crypto apps for beginners. Users with zero experience in crypto can easily navigate Coinbase's user-friendly interface. However, in exchange for the easy-to-use platform, there is a 1.5% fee for buying and selling crypto (e.g., $15 fee for purchasing $1500 Bitcoin).
If you don't have the know-how or the hardware to handle the best crypto mining apps for iPhone, Coinbase is a good entry point. This app offers 22 crypto assets and you are also guaranteed 100% ownership and self-custody of coins.
App highlights:
Easy to use
Allows withdrawal to personal e-wallet
Minimal requirement for account registration
Supports fiat currency
Free bank transfers (depending on your location)
Registered with FCA, FinCEN as a Money Service Business—a KYC safeguard for money laundering
Top-notch security
USD accounts covered by FDIC insurance
The Vault: a 48-hour lock on all withdrawal requests
eToro
Best crypto app for: All-around crypto trading
eToro is the best cryptocurrency trading app overall. Not only is it beginner-friendly, but it is also globally available with a huge community and trading options for stocks, crypto, and CFDs. eToro has a strong global presence and is one of the best crypto apps Australia.
CFDs or Contract for Differences refers to a financial contract between an investor and a broker to exchange the difference in an asset's price between opening and closing. Essentially, CFD trading allows users to trade without owning the coins.
App highlights:
$100,000 virtual portfolio for practice
Account minimum: $50 (US and AU), $200 other countries
Regulated by the FCA, ASIC, and CySEC
100% coin ownership
Over 30 tools and indicators
Cross-pairs trading supported
Crypto-fiat trading (and vice versa) supported
Zero-fee deposit (traditional debit/credit, e-wallet, bank account), but there is a 0.5% currency conversion fee for non-USD deposits
Allows leverage trading, capped at 1:2 for UK and Euro traders, more for professional traders
Zero-fee buying and trading, there may be overnight financing fees for CFD trading
Unlimited withdrawal amounts
Easy withdrawals at $5 per withdrawal
Copy trading allowed – good for inexperienced traders who want to copy a trader you like—at your own risk
ETFs and more than 800 stocks available to diversify your portfolio
Binance
Best crypto app for: Crypto trading with the best range of tradeable pairs; Crypto staking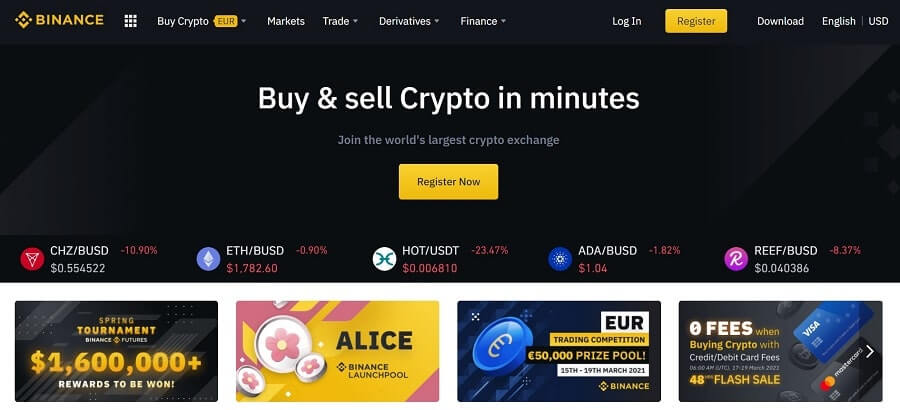 Even if you're not into crypto, you've probably seen an ad or two circulating from Binance. In fact, billions of dollars are traded every day, globally, on this platform.
You will likely find Binance listed on "best apps to purchase crypto" or "best crypto apps iPhone and iOS." Why? Binance has the largest choice of Altcoins, offers low transaction fees, and a high-level cybersecurity.
Another important reason why users like Binance is its Secure Asset Fund for Users which continuously grows and is maintained specifically to compensate users in case anything untoward happens to the platform.
Fortunately, Binance's wide reach makes it globally competitive, whether it is against best crypto apps South Africa, best crypto apps in Canada, or best crypto apps NZ.
App highlights:
Good reputation
Over 600 crypto pairs
Perpetual Futures Contracts allows leverage up to 1:125 (e.g., You can trade $200 account up to $25000 max with minimal commission at just 0.02%)
Competitive fees at around 0.1%, lower if you use the app's native coin (BNB)
Zero fees for crypto deposits, withdrawal fee for crypto is like crypto mining
Sophisticated security, including 2FA, cold storage, address whitelisting, 'SAFU', and anti-phishing
Phemex
Best crypto app for: Crypto trading app with 0 fees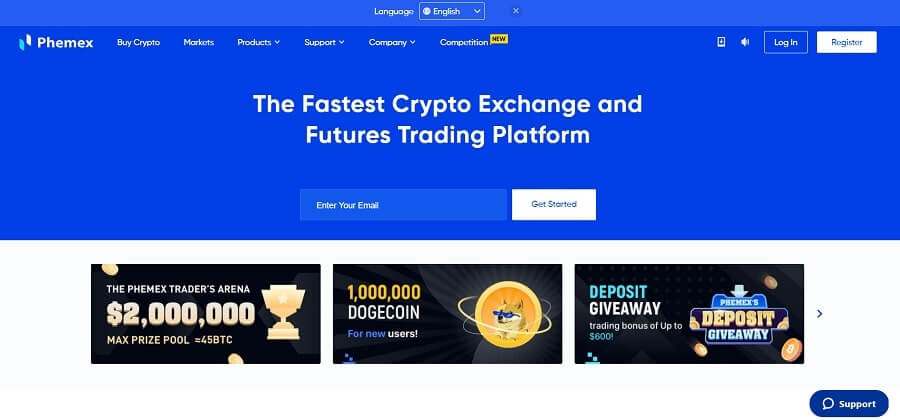 Transaction fees can erode yields on crypto, so you may be looking for best crypto apps low fees. An even better option is Phemex, the best crypto apps no fees.
How is this possible? Phemex offers a 7-day FREE Premium Membership that you can extend up to 30 days from referrals. With a premium membership, you can trade BTC with zero fees. If this expires, premium membership is only US$0.19/day.
App highlights:
Can create sub-accounts
Handles 300,000 TPS
Demo account for practice
User-friendly APIs
A pioneer of zero-fee crypto trading
Trusted digital trading app and secured wallet
Robust mobile crypto app
No KYC for small withdrawals
Crypto app best for: Earning interest on crypto and loans
YouHodler is one of the best apps to earn interest on crypto as well as for crypto loans. As evident in the platform name, YouHodler is for the crypto HODL-ers. Their biggest draw is interest-earning accounts instead of idling in a private wallet.
YouHodler offers up to 12% interest in one year! The Bitcoin annual yield on this app can go as high as 4.8%. As for loans, the loan to value (LTV) can be up to 90% of your crypto deposit which will be paid in fiat currency. This way you get to keep your crypto and release funds without cashing out.
JOIN YOUHODLER TODAY – CLICK HERE!
YouHodler also has a Multi-Hodl option for margin trading and Turbo loans.
App highlights:
Up to 12% APR
Compound interest
More than 15 coins available
Low fees
All-in-one platform for trading, storing, and taking out crypto loans
Uses Ledger Vault for fund storage
Fiat currency supported (USD, EUR, GBP, CHF)
Withdraw from your bank or credit card instantly
24/7 support
Read our full review on YouHodler here.
Nexo
Crypto app best for: Earning interest on crypto
Nexo offers interest on both cryptocurrency and fiat currency like EURO or USD. This crypto app already has billions of dollars in investment from more than 800,00 users worldwide.
Crypto assets stored in Nexo can earn as much as 12% p.a. Crypto interests are paid daily, so this is good for both short-term and long-term storage. Furthermore, you get additional 2% interest if you opt for payment in Nexo's native tokens.
App highlights:
Accessible in >200 jurisdictions worldwide
Insured (up to $100 Million), licensed and regulated
Over 40 fiat currencies supported
Over 75 fiat-crypto pairs,
18 crypto assets
No hidden fees
Guaranteed approval
BlockFi
Crypto app best for: Best crypto loan app
BlockFi's institutional backing from finance giants like SoFi and Fidelity means users get financial products that are institutional grade at low cost or minimal fees.
App highlights:
Simple requirements mean low barrier for entry
Fidelity and SoFi
Adheres to US law and financial regulations
Diversified approach, secured by collateral
No min/max deposit
Mostly no-fee app
Best overall interest rates
Trusted platform with a solid track record
Kraken
Crypto app best for: Crypto staking
Alongside Binance, Kraken is a great app for crypto staking. It has over 50 crypto assets to choose from all in a straightforward platform that is also beginner-friendly.
Its staking functionality gives users the opportunity to earn from crypto or fiat currencies stored in their account. You can stake crypto like Tezos or Ether in minutes and collect regular rewards (weekly or bi-weekly) based on your staked assets.
App highlights:
Wide selection of cryptos
Best for crypto futures traders
Maximum security for assets
24/ live chat support
Cointracker
Crypto app best for: Tracking crypto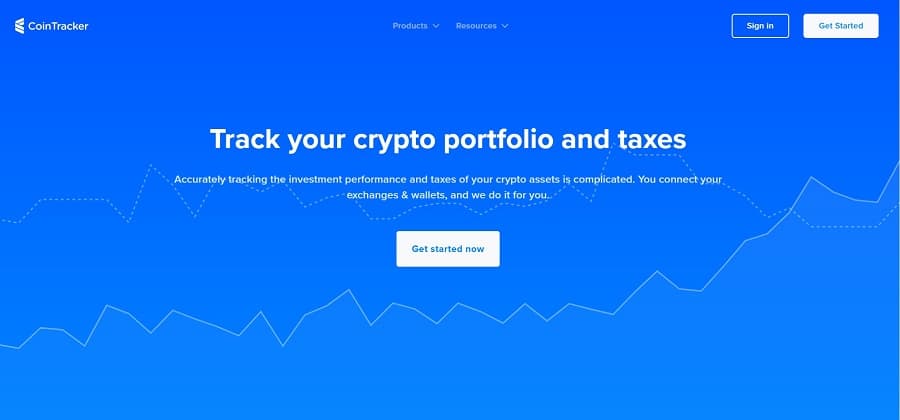 Cointracker helps users manage both their portfolio and taxes from cryptocurrency investments.
App highlights:
Supports over 2,500 cryptos
Easy to use
Unified app that auto-syncs with crypto transactions
Integrates easily with different exchanges
Edge [ Airbitz ]
Crypto app best for: Storing crypto for both Apple iOS | Google Android
Edge, formerly Airbitz, provides higher security and better rates compared to other digital wallets. Although, Coinbase is more affordable, Edge is a good alternative and one of the best crypto apps for Android or iOS.
App highlights:
Beginner-friendly
Open-source app
2FA and PIN protection
Comes with top-notch blockchain services
Storage is on decentralized servers
User keeps private keys
Supports multiple currencies
Blockfolio
Crypto app best for: Crypto news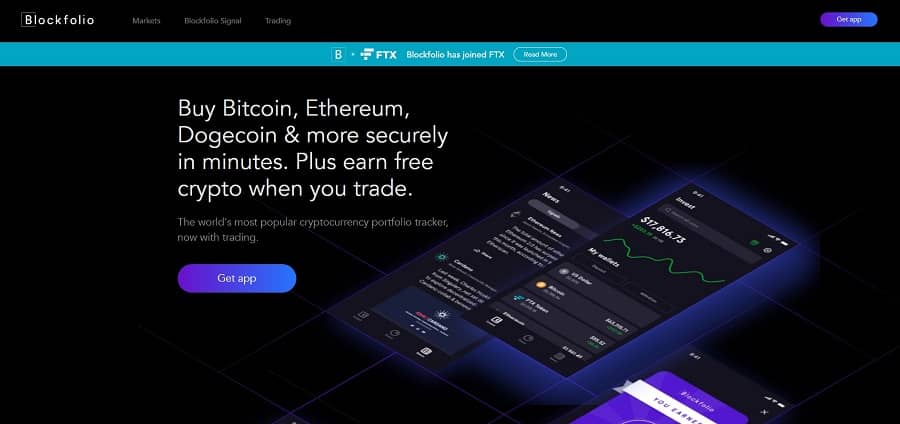 Blockfolio holds a special niche in the best cryptocurrency mobile apps as one of the best crypto news apps in the market. With over six million users, Blockfolio supports multiple crypto exchanges to bring the latest alerts and updates on different assets.
App highlights:
Excellent charting tool
Alerts for over 10,000 crypto assets
Instant alerts for price changes and updates
News aggregator
Supports over 200 exchanges
Airdrops
Crypto app best for: Crypto airdrop alerts
Airdrops helps users augment their funds managed by the best crypto portfolio apps by getting free tokens from airdrop campaigns.
Through alerts and aggregation, the Airdrops app can help you take advantage of the tokens and incentives ICOs spread around to attract users.  While this can lead to free money, risk of phishing and fraudulent campaign can lead to more trouble than they're worth.
Cryptocurrency Apps: Criteria to consider when choosing a crypto platform
Finally, before downloading any of the best apps to buy crypto 2021, here are some additional factors to consider:
Are you trading or holding?
If you are just buying and holding, consider some of the crypto interest-earning platforms mentioned above or opt for a crypto broker which accepts fiat currency for your purchase. However, if you plan on actively trading, then a CFD trading app from the best cryptocurrency apps in our list (e.g., eToro) might be more suitable for your needs.
Since CFDs allow you to speculate on future crypto values, a CFD trading platform lets you trade digital currencies without spending on commissions.
High security level
Security is paramount in crypto trading. Since blockchain is decentralized, it is hard to track who owns which wallet. Strong security like 2FA and back-end encryption are often implemented, and these are gold standard in cybersecurity.
Real-time data
The volatile nature of cryptocurrency means you need to stay updated, or risk losing a huge percentage of your investment. So, whether you are using a trading platform for traders or a tracking app for hodl-ers, the crypto app must provide, real-time and reliable alerts so you don't miss out on important announcements.
Crypto assets and pairs
Coin availability is important, as is supported pairs. For instance, if you plan on buying Bitcoin using USD, then the platform needs to allow fiat-to-crypto pairing. Alternatively, if you wish to trade Bitcoin for Ethereum, then check if that pairing is also supported by the app.
Beyond available assets and pairings, you should also take note of featured like leveraging, margin trading, as well as short-selling options. If you are not seasoned enough for that, you can consult many online resources to get up to speed on crypto trading strategies.
Localization, ownership, and regulation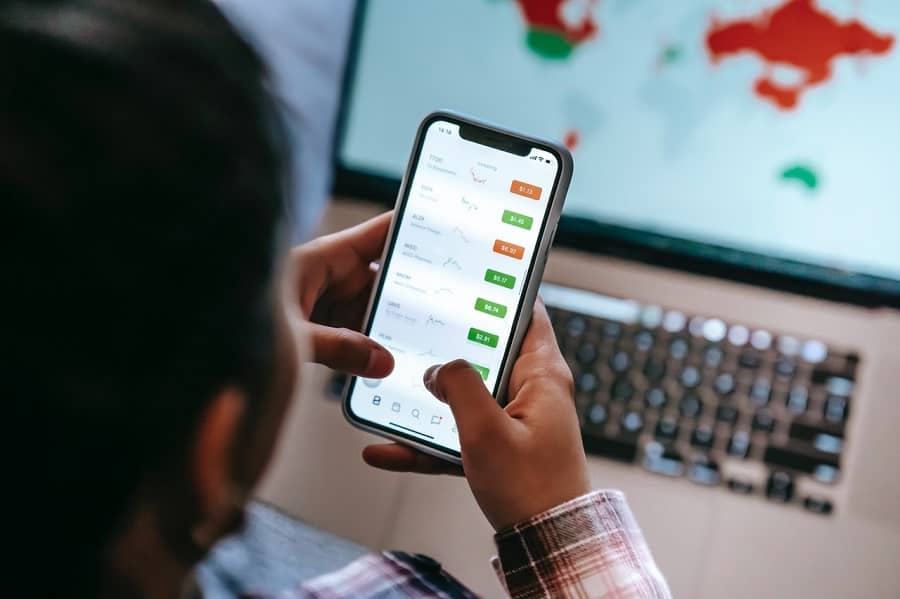 As discussed above, localization is important when considering what currency you are trading with what crypto, possible regulation issues in your jurisdiction as well as tax considerations.
Binance bans US customers due to regulatory issues, so consider local alternatives by searching crypto apps UK or crypto app Canada, depending on your location.
Platform owners and founders will also carry have a significant effect on a platform's reputation and performance. As for regulation, there are pros and cons.
The upside: Crypto regulation provides more protection for investors by putting in measures like deposit insurance and enforcing transparency, disclosure, etc. These policies will help curb instances of money laundering and market manipulation. Regulation can also help make crypto investing more legitimate.
The downside: Regulation is against the underlying principle of blockchain technology which is meant to be anti-establishment. Regulation could stifle innovation and increase the barrier to entry. As a result, user experience could go down and crypto investment will be limited to a small fraction of accredited investors.
Several crypto platforms are regulated. Plus500 and eToro are licensed in the UK (FCA) and Australia (ASIC), while others are included in the CySEC and MAS. Binance, meanwhile, is still unregulated despite its size and popularity.
Usual disclaimers apply. Note that:
CFDs are high risk
Cryptos are highly volatile
Crypto trading is largely unregulated
Past crypto performances do not indicate future results.