Since global interest rates are going down, you are probably searching for alternative sources for passive income. You could be looking into passive income with crypto, but you are not sure exactly how to earn interest on crypto. If this is the case, we will clear things up with this article as it delves into the nitty gritty of each platform.
Do you get interest on cryptocurrency? The short answer is yes. Although crypto is known for being risky and volatile, a crypto savings account can give you huge returns that is simply not offered by traditional bank or credit union savings account.
Crypto investors typically earn passive income through crypto exchanges. However, if you prefer buying and holding digital currency like Bitcoin rather than actively trading, the best way to earn interest on crypto is through crypto-based interest accounts.
Research is the first step with any type of investment, so we will guide you through the pros and cons of crypto savings accounts and how they work. Plus, check out the best crypto interest accounts in 2021 for Bitcoin, Ethereum and other digital currencies.
Top platforms to earn interest on crypto
Before you earn interest with Bitcoin and other coins, you need to decide which platform to use. This is an important part and requires extensive research because you do not want to be scammed or hacked out of your money.
There are secure and trusted platforms to help you earn interest on crypto risk. Here are our top picks:
Best Interest Rate Overall:

BLOCKFI

Best ROI For Short-Term  and Long-Term Account:

Best Reputation:
BINANCE


Good reputation and security, high interest rate for deposits, largest and most established crypto lender
Highest interest rates for stablecoins, biggest crypto assets, lowest fees
Good reputation, best for trading altcoins
Comparison of the best crypto interest accounts in 2021
To get interest on your Bitcoin, Ethereum, Litecoin, and other cryptocurrencies, you need to look at other factors aside from the advertised interest rate. Security, reputation, available coins, fees, usability, customer and technical support are also important in your decision making.
Given those crypto platform considerations, here is a comparison of the best place to earn interest on crypto.
5 easy steps to earn interest on your crypto investment
Google "how to earn interest on Coinbase" or "earn interest on your Bitcoin" and you will get dozens of long explanations but setting this up is easy. In most platforms, signing up for a crypto savings account within minutes.
Go to the sign-up page of your chosen platform to register an account.
Complete registration with your contact details and go through a Know Your Client (KYC) procedure for verification.
After your account is verified, select Deposit, and choose your chosen crypto.
Transfer coins to a unique wallet address.
Start earning interest!
2021 review of best platforms for crypto interest
BlockFi
BlockFi is an independently owned platform with institutional backing from financial giants like Galaxy Digital, Fidelity, Akuna Capital, and SoFi.
BlockFi is regulated by the New York Department of Financial Services with offerings available worldwide, if you want to earn interest on crypto Philippines or other countries. This is also a good alternative to ledn Canada if you want to earn interest on crypto Canada.
What makes BlockFi crypto interest accounts so appealing to investors is that the interest compounds monthly with no minimum or maximum deposit.
After your crypto earns interest on the first month, the calculation for the following month's interest will include the new total balance (original balance + 1st month's interest). This means anyone from individual investors to professional fund managers can maximize their crypto investments over time.
A BlockFi Interest Account (BIA) can earn up to 8.6% APY. The interest on your crypto accrues immediately after you deposit, and interest payments are paid monthly on the first business day of the month.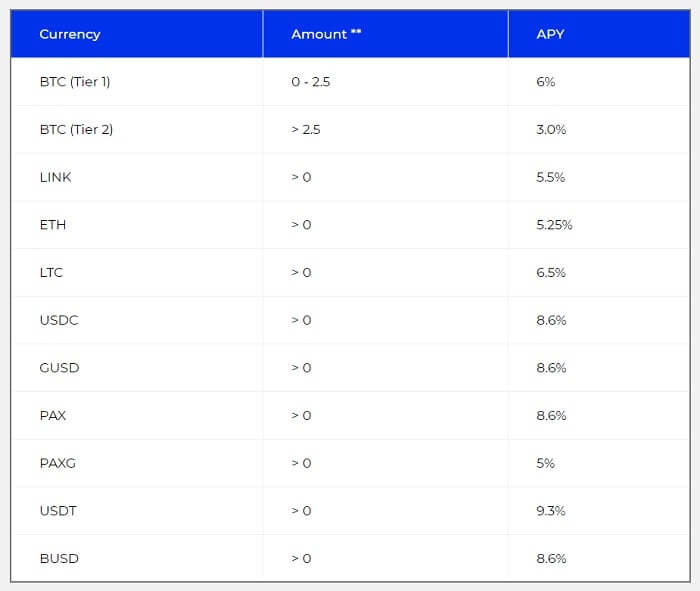 Pros
Currently regulated in 48 different US states
No minimum or maximum deposit
No hidden fees, mostly no-fee platform
Best overall interest rates
All-in-one platform/app for earning interest, trading, and borrowing crypto
Solid track record, trusted team, and high-level transparency
Cons
Requires a working knowledge of cryptocurrency
Deposited crypto is in BlockFi's custody while you use their products and services
This Swiss-based company is considered one of the best app to earn interest on crypto with their crypto-fiat financial services. It is registered in Cyprus and regulated in Europe.
Youhodler makes crypto-HODLing as an active strategy. You can HODL during down or unelevated periods and then sell your cryptos anytime, so both short-term and long-term investors can maximize the value of their coins.
Youhodler users can also borrow fiat currency using your crypto assets as leverage, convert crypto to other digital currencies or fiat, or invest in stablecoins if you want.
If you need to cash in your cryptos, you can convert Bitcoin to fiat with a 2% fee. Conversely, you can use fiat currency to buy stablecoins to earn interest on cryptocurrency at a 12% annual interest + compounding interest.
With YouHodler Savings Accounts, your interest earnings are directly deposited weekly into your wallet.
Pros
Crypto interest rates of up to 12% APR + compounding interest
Over 15 cryptos supported
Lowest fees
All-in-one platform for trading and storing crypto
Uses Ledger Vault to store client funds
Fiat currency options include USD, EUR, GBP, CHF
Withdraw from credit card and bank instantly
Multi-HODL option
Available in web and app (iOS and Android) versions
24/7 customer support
Cons
Not available in China or the United States
Higher fees and interest rates on loans compared to other platforms
Lacks insured custodian for client funds, relies on small and self-established insurance funds
Issues with the Android app have been reported
Read the full review of YouHodler here or join visit their official site here.
Binance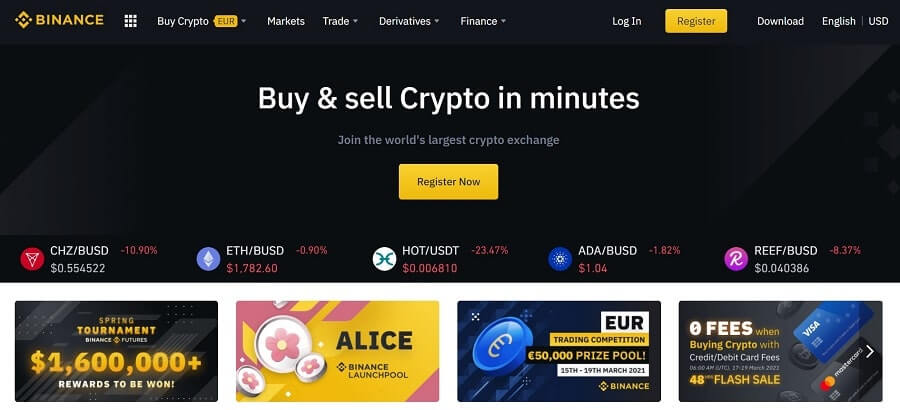 Binance is one of the most reputable crypto exchanges in the world for all types of crypto investors: active traders, investors or HODL-ers. Binance is popular in the crypto industry because of the innovations introduced by their platform. The site platform essentially bridges the gap between cryptocurrencies and fiat. For crypto interest rates accounts, you have two options:
Fixed Deposit – locked funds a length of time for a predetermined interest rate
Flexible Deposit – withdraw anytime at variable interest rates
Binance is available worldwide for investors in Bitcoin and various altcoins, so you can earn interest on crypto Ethereum, earn interest on crypto Australia, earn interest on crypto in New York etc.
Pros
Best-in-class platform features
A trusted brand
Supports over 50 cryptocurrencies
Low transaction fees
Easy to use
Insured crypto assets
Cons
Not available in some US states, including New York and Texas
US site has limited crypto pairing options
Interface could be overwhelming for beginners
Traditional payment options not supported
Lacks daily comprehensive market analytics
Celsius Network
Celsius Network, founded in 2017, is one of the most reputable providers for crypto saving accounts. This crypto asset platform, similar to other crypto platforms, aims to disrupt traditional banking institutions by attracting millions of investors into cryptocurrency.
One of the major draws of Celsius Network is their over 12% annual cryptocurrency interest for coins in your Celsius wallet (See comprehensive list of interest rates here). Like other crypto interest-earning accounts, Celsius offers high-interest commissions crypto assets deposited into the platform which will be used to fund crypto loans.
Pros
No minimum deposit
Withdraw anytime with no penalties or hidden fees
High interest rates
Supports major cryptocurrencies, including Bitcoin, Ethereum, Litecoin, etc.
Cons
Coins are stored in a centralized Celsius wallet
Implements a margin call system putting you at risk of liquidating some assets to meet the margins
Crypto.com
Crypto.com has over a million users and growing. The crypto.com interest rates from their savings account are just one of their products and services.
Any Crypto.com earn review mentions their robust app which allows users to do everything in a single platform, including trading, buying, selling, storing, paying bills, taking loans, and, of course, earning interest on your crypto.
Interest rates on Crypto.com is up to 8% for digital currencies and 12% on stablecoins. Interest accrues daily and can be credited directly to your wallet every 7 days in the same currency as your crypto deposit.
Pros
Cashback on debit cards and other perks
Supports both fiat and crypto funding
Fewer KYC requirements
High crypto interest rates up to 18%
Wide range of coins supported
Weekly interest credited to your crypto wallet
Robust app
Withdraw fiat funds with zero fees
FDIC insured fiat funds
Compliant with international standards for data security: ISO 27001:2013, PCI:DSS 3.2.1, Level 1 compliance and CCSS
Insured and secured cold wallet
Cons
Slow in-app support
Withdrawal of coins has associated transaction fees
Lock up period required for maximum interest rates and rewards
Nexo
Nexo launched in 2017 and currently supports about 18 crypto assets, including Bitcoin and Ethereum. Users not only have the option of earning interest on cryptocurrency, but the platform also offers interest on fiat currency such as Euro or USD.
Nexo has processed billions of dollars of assets from over 800,00 users in over 200 global jurisdictions. For storing crypto assets, Nexo offers as high as 12% p.a. Interests are paid daily which can accrue quickly as your savings compound. Nexo also offers an additional 2% interest if paid in the platform's native tokens.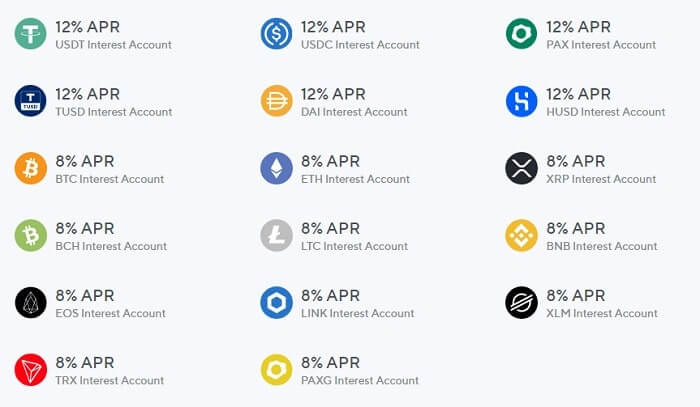 Pros
Licensed, insured (up to $100 Million), and regulated
Supports over 40 fiat currencies
Over 75 fiat and crypto pairs
Available in over 200 jurisdictions worldwide
No hidden fees
Guaranteed approval, credit score check not required
Cons
Holding mandated for best interest rates, both on loans and savings
Insurance is cumulative and only applies to funds in cold BitGo wallets
Interest rates for lenders may be higher than borrower rates
Gemini
Gemini was founded by the "Winklevoss twins," Cameron and Tyler Winklevoss, in 2014 as a private NY trust company for crypto trading. The company has recently launched Gemini Earn for HODL-ers to earn passive income with cryptocurrency on their platform.
Though interest rates here are not as high as the others on this list, Gemini is regarded in the crypto world as a safe hub offering attractive compounding interest rates of up to 7.4% APY.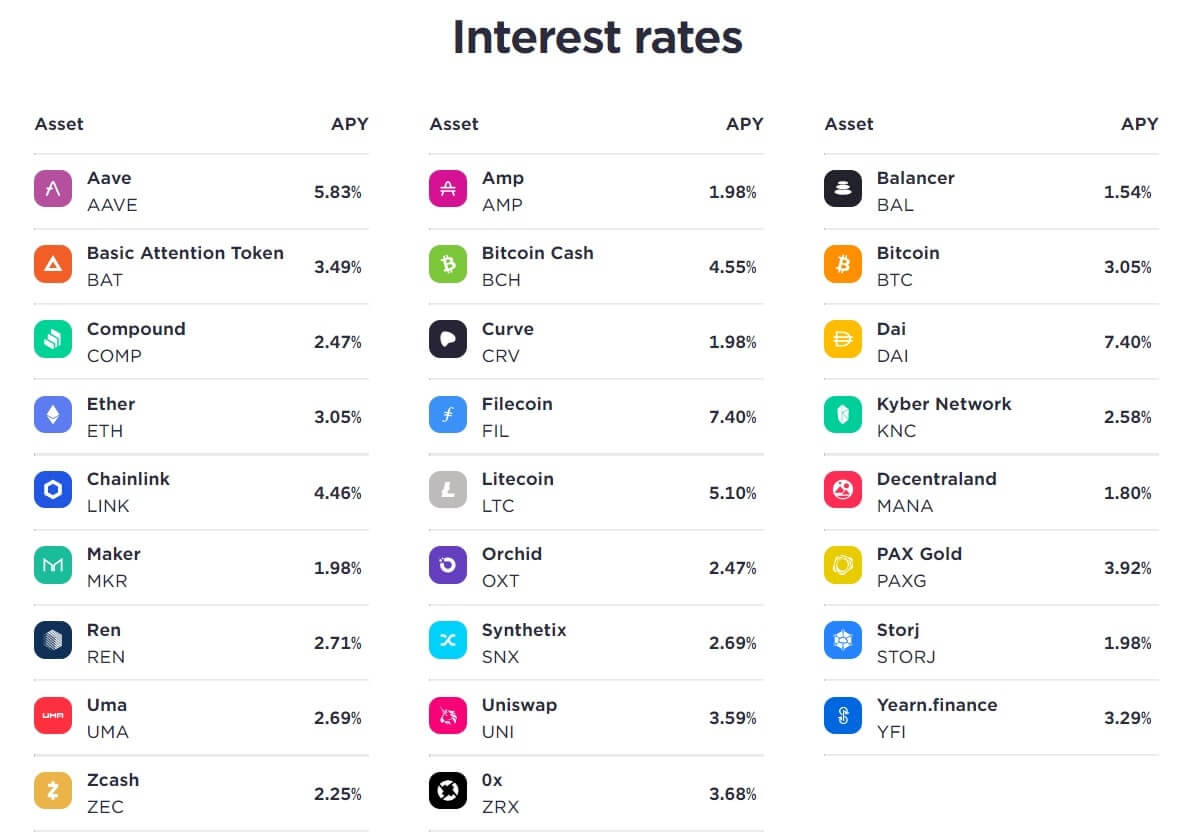 Pros
Considered safe and reputable with superior cybersecurity
Move crypto assets with ease and interest into the trading platform
Simple and straightforward interface
Track market prices real time
Supports scheduling crypto purchases
Cons
Only available to US users
Blockchain.com
Blockchain.com, formerly Blockchain.info, started out as an explorer and eventually grew to include crypto services like wallet, exchange, etc. Blockchain.com's open-source wallet supports many popular cryptocurrencies and stablecoins.
Unlike other wallets like Binance and Coinbase, Blockchain.com is noncustodial, so you control your private keys. Blockchain.com is also available in over 140 countries to help you earn interest on crypto India or earn interest on crypto UK.
Pros
Best-in-class security
Noncustodial keys
No fees for holding cryptos
Available in over 140 countries
Ease of use, supporting 21 languages
Cons
Verification can last several days
Purchasing crypto with fiat is not supported
Cryptocurrency is notoriously volatile and only a handful of coins are regulated. This means that while there is a huge opportunity to earn big, there is also the possibility of losing a large chunk of your hard-earned money.
That said, if you are aware of the risks and you are well-prepared to dive into crypto investment, there is no better time than now. As discussed, these platforms make it easy to transition into crypto investing with best-in-class security and robust apps for best user experience.
…
Frequently Asked Questions (FAQs)
Which platforms offer the highest crypto interest rates?
Depending on your crypto investments, the best crypto interest rates can be found in one of the eight platforms we reviewed, with BlockFi emerging as the best site overall to earn interest with crypto.
BlockFi interest rates can go up to 8.6% APY and is a trusted site with best-in-class security features. All those factors make it a leading platform for digital assets. Youhodler is best for earning interests with stablecoins, while Binance has a good reputation for altcoins.
What are BlockFi alternatives?
Alternatives to industry leaders like BlockFi and Binance include Nexo, Youhodler, and Celsius Network. Each of these platforms have different strengths when it comes to choosing the best crypto savings account.
Nexo's interest rates can be as high as 12% with over 75 fiat and crypto pairings, plus guaranteed approval. Nexo's assets are also insured for up to $100 million, although that only applies to funds deposited in cold BitGo wallets.
Youhodler offers up to 12% APR with low transaction fees and a convenient all-in-one platform. Funds are stored in Ledger Vault with support for fiat currency.
Celsius Network requires no minimum deposit with interest rates as high as 13.30%. The major cryptocurrencies are supported, though your coins will be stored in a centralized wallet.
How to earn compound interest on crypto?
Sites like BlockFi, Youhodler, and Nexo offers compound interest which can be a lucrative source of passive income crypto coins.
Earning compounding interest on crypto depends on the supply and demand movement for any given crypto asset. This means the interest rate for crypto assets will fluctuate depending on changes in market conditions.
With compound interest, the interest you make on the first month of deposit will be added to your original balance. This new total balance will earn interest for the second month, and so on. For instance, an initial deposit of 1BTC which earns about 6% interest on the first month will grow to 1.005. On the next month, this 1.005 BTC will accrue based on prevailing interest rates.
This means you have the opportunity of earning more from your initial investment the longer you save and store your cryptos.
Can you earn daily interest on crypto?
Yes. Most crypto sites we have reviewed in this article offer daily interest earnings which start as soon as you deposit your crypto assets.
Nexo pays out interest earning daily direct to your wallet. Youhodler and Crypto.com credits interest earnings weekly, while BlockFi interest payments are made monthly.