Article last updated on 10th March 2021
How to Make Money Through the eBay Affiliate Program
eBay, founded in 1995 by Pierre Omidyar, has gone on to become one of the largest e-commerce brands in the world. At any given time, eBay has about a billion live listings in any category imaginable which you can promote through the eBay Affiliate Program.
If you are looking for anything, from general household items to obscure collectibles, chances are you will find it on eBay. As one of the top 10 global retail brands, eBay listings are scattered across thousands of cities worldwide with over 100 million active buyers in about 200 markets. These achievements make the eBay Affiliate Program attractive to all types of affiliates.
This eBay affiliate program review will explain how to join eBay affiliate program, how eBay affiliate program works, how to use eBay affiliate program, how much money you can make from eBay's affiliate program, how the affiliate program fares compared to Amazon, and the reviews on Reddit to help you decide if this is worth your time and efforts.
eBay Affiliate Program: How Do I Become an Affiliate on eBay?
eBay operates globally in Europe, North America, Asia, and Australasia. It is a buy and sell platform using an online auction model so users can bid on products or buy items outright at selling price. eBay has a vast range of product categories from fashion and home accessories to electronics and collectibles.
eBay's in-house affiliate program is the eBay Partner Network (EPN). To qualify as an affiliate, you need to have an eBay account. Fortunately, it is easy to create and account and aside from that there are no other eBay Affiliate Program requirements. eBay generally accepts most affiliate applicants with as long as they have an established and relevant website.
Once you get accepted, you will gain access to a suite of advertising tools. Once the ads are active, affiliate analytics provided will help you easily track ad events and revenue.
Pros
Great landing page. The eBay Affiliate Program's landing page has all the information you need to proceed with your promotions.
Deep linking. They provide an easy custom link generator which allows you to link directly to the product listing and not just the homepage.
Useful marketing tools. They also provide other useful tools to help with promotions, including ''Smart Placements'' which is for displaying dynamic banners to show visitors the products they recently viewed on eBay.
Seasonal banners. Not only do they offer banners in all standard sizes, they also create seasonal banners for events or relevant promotions on eBay.
Cons
Contradicting information. Whenever eBay makes changes to the eBay store affiliate program, it can cause contradictions since they do not update everything. A good rule of thumb is to check the Network Agreement for the legal and binding rules.
24-hour referral period. The biggest complaint from eBay affiliates is the extremely short eBay Affiliate Program cookie duration of 24 hours compared to the standard of 30 days. This can reduce commissions a lot especially with the auction model which usually takes days or weeks to conclude. For some users, a workaround would be to promote listings with the "Buy It Now" option for higher chances for sales within the 24-hour period.
eBay Affiliate Program Commission Rates: How Much Do eBay Affiliates Make?
How does eBay affiliate program work? Affiliates basically earn a commission for every instance when traffic from your website is converted into a purchase, whether through "Buy It Now" or a winning bid.
Rates vary from 1-4% depending on category. Fashion as well as Parts and Accessories fetch the highest commissions at 4%. They also award a bonus for purchases made by a new user or a reactivated eBay account.
Rates may vary depending on where you are located, such as eBay Affiliate Program India, eBay affiliate program in Pakistan, eBay Affiliate Program Australia, and eBay Affiliate Program Canada. You can start withdrawing your earnings after you exceed the required minimum account balance of $10. For payments, you can choose between direct deposit or PayPal.
eBay Affiliate Commission Calculator
Since eBay is already a trusted and popular global brand, you job as an affiliate is just to send traffic to the site via your own platform. How much does eBay affiliate program pay? you can use EPN's Commission Calculator. See eBay Affiliate Program payout example below from the EPN website.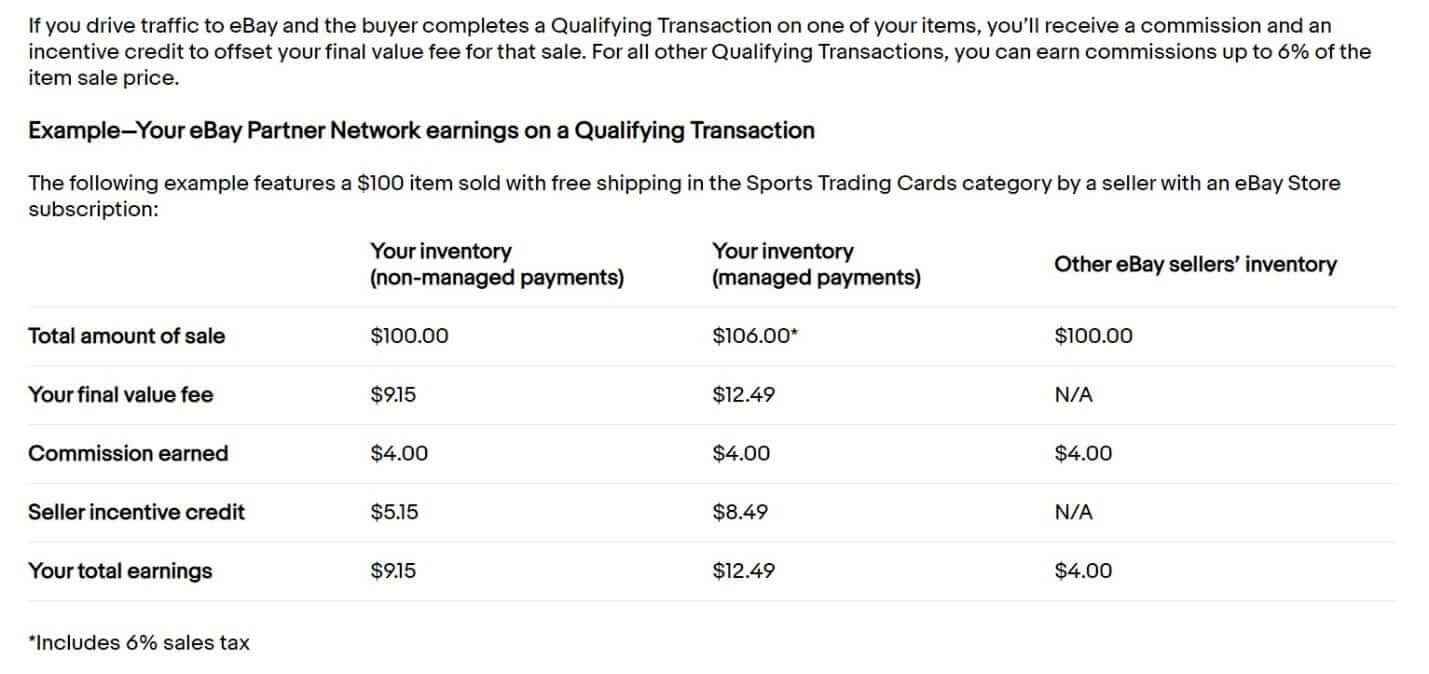 How to make money with Ebay affiliate program?
Money-Making Strategies
Despite the narrow window for referral, eBay affiliates can still earn a lot from commissions with the right strategy. Here are some tried and tested tips to earning from the program:
For auction listings, choose products which are closing in 24 hours. Products with days or weeks still left for bids are less likely to end in a purchase within the short referral period since eBay users usually wait until the last moment to bid.
Avoid auction items if you can and opt for listings with the ''Buy It Now'' button.
Be strategic about which "Buy It Now" products you want to promote, so if your niche is home furnishings you can choose those products to feature on your website.
Choose fast-selling products. High-value items like gadgets are typically not immediately purchased because buyers typically shop around to compare prices or check specifications.
Do not focus on cheap products. Expensive products may take more than 24 hours to sell, but do not put all your marketing efforts on cheap products either. Mid-range items are your safest bets, perhaps those with fewer alternatives or variations. Perhaps promote iPads instead of the latest iPhone.
eBay Affiliate vs Amazon how much does eBay affiliate program pay
If you are deciding between eBay and Amazon, there are several distinctions. Just like eBay, Amazon cookies last only 24 hours. However, Amazon also extends the referral period to 90 days if a visitor adds the product to their cart without completing the transaction. This abandoned cart action can work on the affiliate's favour.
In terms of commission, Amazon's rates range from 1-10% with the highest rate for luxury beauty. eBay pays more commission for health and beauty products at 4% compared to Amazon's commission rate of 1% for health and personal care products. eBay also offers a higher rate for video games, 2% compared to Amazon's 1%, and grocery items at 3% compared to Amazon's 1%.
On the other hand, Amazon is much bigger with a more established credibility in retail whereas eBay is often seen as a marketplace for collectibles and used products.
Of course, the great thing is you can take advantage of both programs. Sign up for both and then you can compare which one helps you earn more.
eBay Affiliate Program: Reddit Reviews
Is eBay Affiliate Program worth it? Reviews from Redditors will give you a clearer view about the program. Reddit is a rich source of reviews for different affiliate programs by users located in different parts of the world, so you can get specific insights on eBay Philippines Affiliate program or eBay UK Affiliate Program review.
For example, one user says the amount of money you earn will depend largely on your marketing strategy: "It's all going to depend on the choices you make, I think – which products you promote, the quality of the end listing the user reaches, and the conversion tactics of your own site."
One recommendation is through email marketing. By creating an email list, you can send out regular mails featuring your recommended products. You can target both existing users, dormant users, and potential users since the latter two will give earn you a bonus for their purchases. Another common suggestion is to focus on "Buy It Now" items for higher chances of sale.
Collectibles and memorabilia are categories Redditors find to be lucrative. One user wrote that it is a legitimate affiliate program and that "niche products that are more likely to sell are generally memorabilia related." The user then recommends starting with sports team and alumni groups to promote collectibles an items with historical significance.
The eBay Affiliate Program percentages have been reduced and rules changed over the years, so one Redditor says he used to earn more 10 years ago compared to now.
Another user who signed up for the program unfortunately did not earn anything due to low site traffic. So, make sure you get a decent traffic on your website to get the most out of the program. Or else create an aggressive marketing campaign to grow your audience.
Also, you might want to check out alternative affiliate programs, like Wayfair, to make money online. Check out the comparison of pros and cons.