Updated: September 9, 2021.
Due to uncertain job outlook in this economic climate, I have been looking for more ways to earn online. The Internet provides a lot of platforms for the gig economy, but IntelliZoom Panel is probably one of the easiest ways to make some money on your free time.
IntelliZoom pays their members to test websites, software, and applications. Easy as that! IntelliZoom Panel, if it is true to what it is advertising, seems like it warrants my attention. Since I'm online most of the time anyway, this additional task sounds easy enough.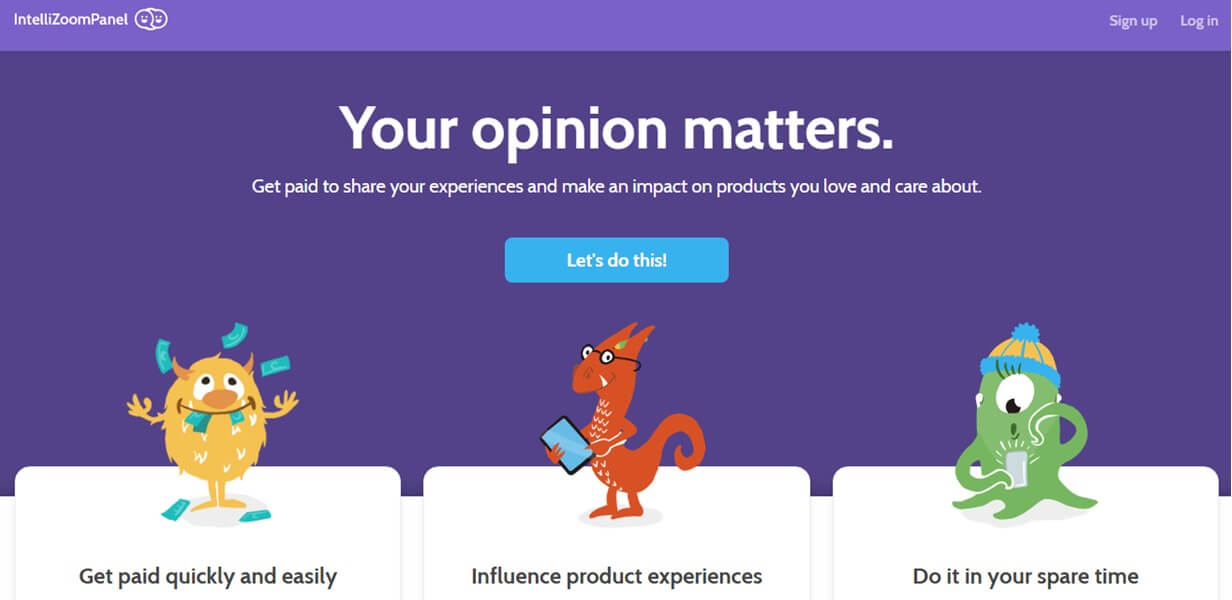 Unfortunately, the Internet is also a breeding ground for scams. We have learned that if something looks too good to be true, then it probably is. I'm no stranger to side hustles and online gigs, so I only choose worthwhile websites which pay a decent fee for my work and ensure that I get paid in a timely manner.
I value my time, so I usually do a lot of research before signing up to something. To be on the safe side and to make sure that I was not being scammed, I did some digging. To make a long story short, Intellizoom is a legit program but you won't make too much money based on the time invested. I personally prefer more profitable ways to work online. If you are curious check out this program below:
Discover The #1 Business Model To Make Money Online – Click Here! >>
What is IntelliZoom Panel?
IntelliZoom Panel is owned by UserZoom which is a UX Insights company with several IntelliZoom address located in the US, the UK, and Spain. UserZoom has also acquired Validately, another platform that pays people for testing sites.
From the IntelliZoom landing page, it looks like a typical survey site with the focus on website testing and providing feedback on products. Members are paid for participating in studies about products.
There is an FAQ at the bottom of the page which answered some of my questions about how the process works. I found that "studies" refer to UX (User Experience) research studies which members participate in by testing websites and apps. Other sites like IntelliZoom that pay for this kind of work are User Testing, TryMyUI, and Userfeel.
The goal of these websites is to help their clients understand how users are interacting or using their apps, websites, or programs. If I decide to become an IntelliZoom member, then I will be helping businesses improve their platforms for better user experience.
Some of the tasks may include checking out an online shop and taking notes about the process, from browsing products to checking out.
A Step-by-Step Guide on How to Make Money on IntelliZoom
The FAQs do not cover the specifics of signing up and your responsibilities as a member of the panel, so I decided to sign up and share my experience.
What Do You Need to Join IntelliZoom?
You need to at least 18 years old to join IntelliZoom panel and participate in the studies.
You must be a UK or US resident.
A laptop/computer, tablet, or a smartphone. You will need to download UserZoom's eCertified testing software into your chosen device. Also make sure your device has a working camera and microphone, otherwise you need to buy those additional accessories.
Reliable Internet connection. You don't want your connection interrupted in the middle of testing.
You will also need a quiet space where you can focus on conducting the tests.
Signing Up to IntelliZoom Panel
To start the sign-up process, I simply clicked on the "sign up" button at the top of the IntelliZoom landing page. This led me to a standard registration page asking for my basic information – first name, last name, and email address. Afterwards, I was asked to create a password.
After that, I was instructed to confirm my email by clicking on the link in the confirmation email they sent to my email's folder. I also provided my mobile number which was verified with an SMS code which I input on the website.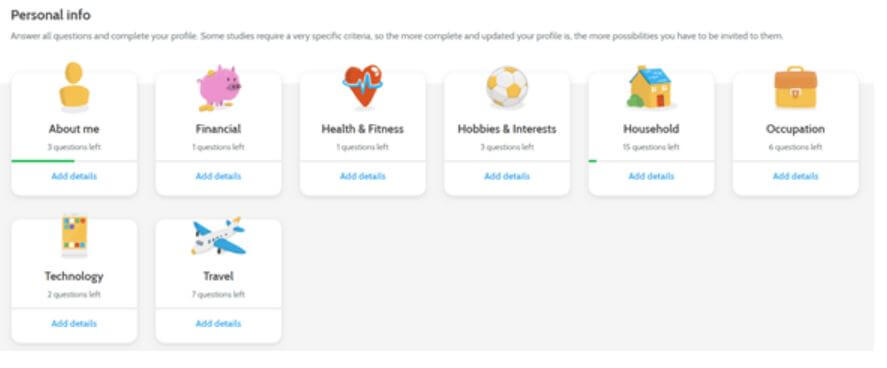 Then it was time to complete my profile. Some of the personal information I had to answer were my date of birth, gender, race, zip code, language, among others. This part was time consuming with several pages to fill out. This tedious process is important because they will be using this information to match me with relevant studies.
How Much Money Can You Make on IntelliZoom?
So, how much can you earn on IntelliZoom? The answer is: It depends. IntelliZoom payment varies depending on the complexity of the studies.
A working microphone and camera are required because in some studies you will need to record your voice as well as video as you verbalize your experience in the process of testing. These types of studies typically pay about $10, while standard surveys pay $2 on average. Studies usually take about 10-20 minutes to complete, so the payment is reasonable especially for the longer studies.
Your study will then go through the approval period which usually takes 5 business days. Once approved, you will receive your payment in PayPal within 21 business days.
Pro Tip: Take this process seriously. If you want to get paid, focus on the quality of your survey because aside from demographics, your quality rating will get you more study invitations.
Check out other ways to make money online: eBay affiliate program, Wayfair affiliate program.
IntelliZoom Review Reddit: Pros and Cons
I also checked IntelliZoom Panel review on Reddit for other people's experience with IntelliZoom. After all, if any issues with payment come up, someone will post about it online.
In the /r/Beermoney, a Reddit community for ways to make money online, user ingothwetrust posted that in just 10 days, he has done five surveys and made $19. Several users agreed that it's easy money for "a few minutes" of your time.
A search for IntelliZoom reviews Reddit showed there was a complaint 4 years ago about IntelliZoom payment tracking issues, but the more recent reviews seem to focus more on the number of invitations rather than payment. Another user (nerajthapa) in the same community posted payment receipts, so it adds more to IntelliZoom's legitimacy.
On the downside, qualifying for studies is touch and go. Some people can get "15-20 surveys," while other people are not as lucky.
User rikostan received three $9 tests in a matter of days, two regular tests and a card sorting task which he shared was "not too shabby." He did have issue about the 21-day payout though as it is much longer than other platforms.
Discover The #1 Business Model To Make Money Online – Click Here! >>
Other IntelliZoom Reviews
Meanwhile, on TrustPilot, 40% of reviews gave IntelliZoom an excellent rating.
Overall, the positive reviews praised IntelliZoom for the timely payment, user-friendly site, and interesting tasks. They also like that they pay on time and are responsive. One reviewer wrote that IntelliZoom's site is well-constructed and the studies/tests are not only easy to follow, they're also interesting.
On the other hand, they also had issues with the 21-day period for clearing payment as well as the 5-day approval period which they deem to long.
The approval period can be frustrating for some people. For instance, a couple of reviewers who had rejected tests said they were not informed about the reason for the rejection. Meanwhile, another reviewer was happy for having just "one task rejected."
Survey Panel Comparison: IntelliZoom, User Testing, UserZoom, TestingTime
If you want to know how IntelliZoom compares to other survey panels that pay cash. Here is what I found:
TestingTime has an 89% excellent rating on TrustPilot compared to IntelliZoom's 40%. It also has hundreds more reviews for reference. UserZoom currently has no reviews on the site.
Just like IntelliZoom, users find the tests easy, interesting, and fun. The payment is likewise reliable.
With UserZoom, Redditor Kthulu666 noted that it lacks "the ability to get deep insights." He also experienced some issues with the software.
Redditor B4KLASH shared that he gets more test invitations from IntelliZoom compared to User Testing. He shared that he completed about 20 tests in a month from IntelliZoom with higher payment.
ItelliZoom Review Summary
Overall, IntelliZoom is a legitimate user testing website which pays good money for a fraction of your time. Tasks may dry up every now and then, so I recommend signing up to other credible sights to fill your free time.
This is not a mere money-making scheme. More than the money, this can be a valuable learning experience. Who knows, with the world shifting more and more into online transactions and remote work, your UX testing skills will become more in demand and lucrative.
Discover The #1 Business Model To Launch Online – Click Here!