The introduction of bitcoin as a medium of exchange paved the way for thousands of cryptocurrencies to enter the market. Though this allowed the market investors to diversify their portfolio, it worsened the already existing challenge of tracing the changes in individual asset prices.
As more and more cryptocurrencies are created, the riskier it gets to invest in the crypto market today. But does this mean we stop investing in cryptos? It certainly does not.
The introduction of the new cryptocurrency portfolio trackers has presented investors with a new way to stay in the game in the long-term. With these new tools, they can track the price changes in their portfolio in real-time and watch over their investment.
Wondering which crypto tracker to use? This article reviews the top ten crypto trackers you can use to review your portfolio in 2021.
Note: the crypto trackers discussed below fall under 3 categories, including:
Crypto Price Trackers
Crypto price trackers refer to apps or any other platform that allow cryptocurrency investors to monitor the changes in their portfolio's value in real-time. The information collected from these platforms helps the investors to invest wisely.
Crypto Tax Trackers
On the other hand, Crypto tax trackers provide investors with information about the tax to be charged on the income earned from trading individual crypto assets. With the data, the investors can judge which assets to avoid or invest in.
Crypto Trackers for General Finance
These are crypto trackers that avail the crypto investors with information about price, tax, and any other financial aspects of the assets they support. A good example this type of trackers is cointracker.io app. Some apps can even predict the future of the crypto market based on past market trends.
Top 10 Crypto Trackers
Delta
Delta is one of the easiest and yet the most beautiful crypto tracking apps. It gives a clear overview of more than 2000 cryptocurrency prices in real-time.
Besides the cryptocurrency prices, the app also provides investors with insights for other forms of investment assets, including indices, stocks, ETFs, mutual funds, options, futures, forex, etc.
Its wide application and minimalistic design have fetched more than a million downloads and rocking reviews from its users. Some of its unique features include:
The Crypto Project Intelligence Tool: the intelligence tool- delta direct will update you with news from your favorite projects.
Price Alerts: the app allows you to customize the price alerts for all supported assets, including bitcoin and Ethereum.
Mobile Compatibility: the app supports all Android, Windows and IOS devices, meaning you can access its services using any smart device.
Pros
Friendly user interface
Accessible through various mobile devices and desktop
Provides information for multiple assets.
Cons
The app does not support the trading of coins.
Blockfolio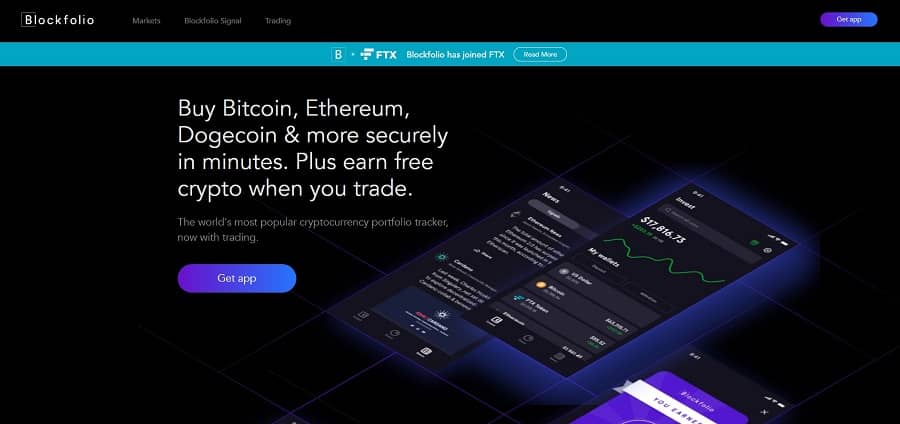 Blockfolio is one of the with more than 6 million users since its inception in 2014. The app boasts of excellent charting abilities and its support for more than 206 exchanges.
Indeed, its undisputed support for multiple exchanges accounted for its acquisition by the crypto exchange FTX for $ 150 million. The other features of block folio include:
Unmatched Asset Support: you can use block folio to get price alerts for more than 10,000 crypto assets.
Price Alerts: the app will always notify you whenever a new price level is reached.
The News Aggregator Tab: meant for updating you with news about the latest events.
The Updated Signal Feature: notifies you of the latest updates for the app from the development team and portfolio teams.
Pros
Great charting tool
Instant price alerts and news updates
Cons
It doesn't support desktop application.
Some trading pairs like USDT are missing.
Crypto Pro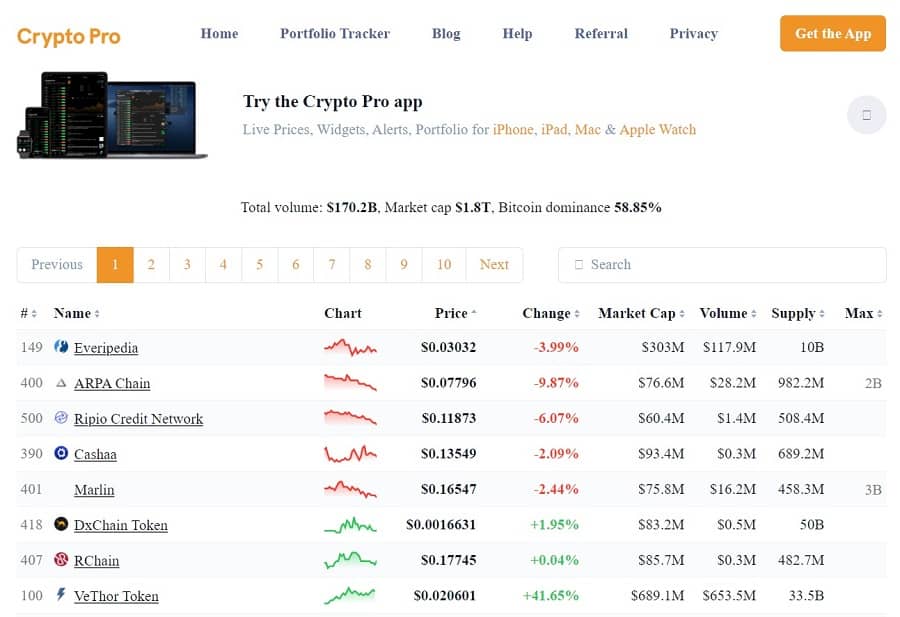 Crypto Pro is an exclusive coin tracking alternative where users can get real-time updates on cryptocurrency prices, news, and quotes. The app is compatible with all Apple devices, including iPhones, Mac, iPad, and Apples Watch.
The other features of the app include:
iCloud Feature: you can use this feature to secure your data seamlessly.
The Cryptocurrency Calculator: for calculating the viability of different cryptocurrency assets.
Siri Shortcuts: contains shortcuts for performing various cryptocurrency-related tasks.
Customizable Widgets: you can use the widgets to set the price alerts, news updates, etc.
Unlimited Asset Support: you can use the app to obtain information for all your portfolio.
Pros
Unlimited portfolio support
Real-time updates on prices, market updates and any other aspect of your portfolio
Cons
CoinStats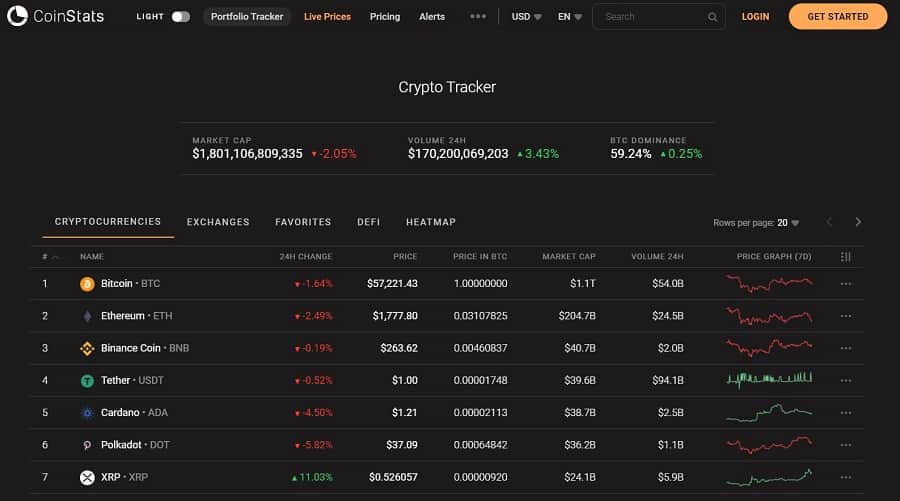 CoinStats is the way to go when you want to track cryptocurrency prices or intend to synchronize all your trading data in one app. The app has all it takes to make an excellent cryptocurrency tracking app. Its features include:
Universal Compatibility: means that you can access its services using a device with android, iOS, and MAC operating systems.
Unlimited Support: you can use the app to collect real-time data for over 1800 coins and over 80 exchanges.
News Aggregator Tab: a feature that qualifies coins stat apps as the best crypto trackers Reddit, Twitter, and other social media platforms.
Customizable Alert Widgets: you can use these widgets to customize alerts on the latest crypto news and updates.
Pros
Instant updates for prices and crypto news updates
Excellent mobile support
Simple user interface
Cons
Most of the apps featured are available to premium subscribers.
CryptoView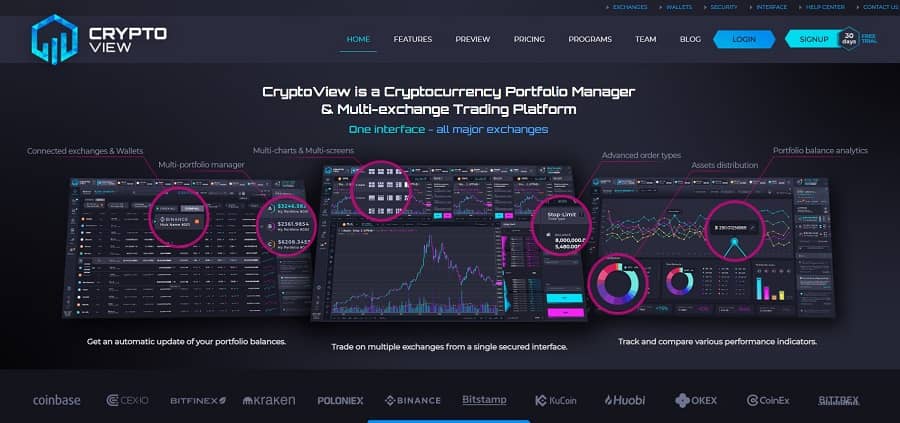 CryptoView is one of the leading cryptocurrency portfolio managers, which are known for its first-class services. Its features include:
Excellent Charting Interface: you can use the customizable chart interface to obtain real-time trading data on different exchanges.
The News Aggregator Tab: get cryptocurrency news feeds from the leading media outlets.
Highest Security Standards: CryptoView's enterprise security standards ensure your data and API keys' safety.
Support for Multiple Assets: you can obtain information or trade-in various portfolios provided that the program supports them.
Pros
Excellent charting interface
Excellent data security
Cons
Supports only bitcoin and altcoins.
Cryptography
Cryptography is one of the recent cryptocurrency trackers with the best features, a simple user interface and compatible with both iOS and Android devices.
It supplies its users with the latest cryptocurrency trading news and asset prices to guide them in making their investment decisions.
Its features include:
Widgets for Relative Performance: there are specific widgets that are meant to compare the performance of your portfolio against that of other top investors in the market.
Integrated Calculator: calculates your percentile score for comparison with other investors in the market.
Aggregate News Tab: to update you on the latest crypto news updates.
Pros
User-friendly interface
Has news and updates widgets.
Cons
The most advanced features are only available to premium users.
Not automated
CryptoCompare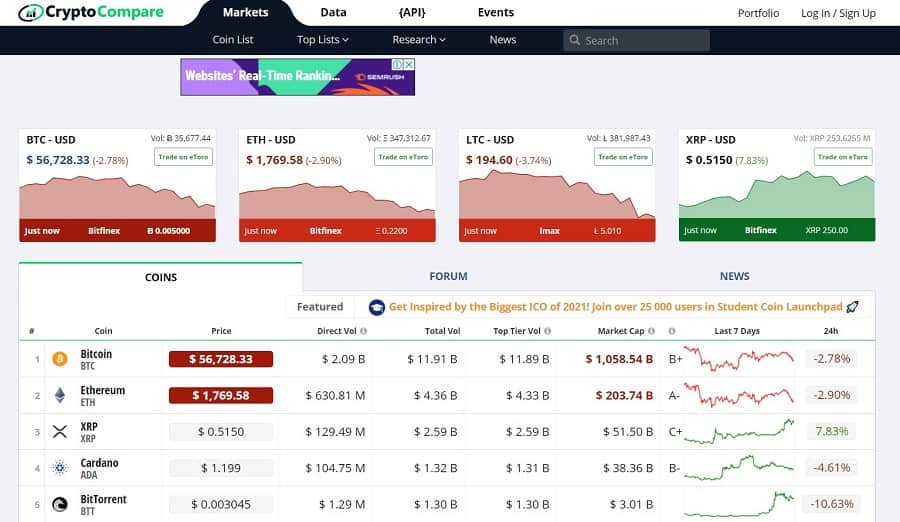 If you are looking for a cryptocurrency tracking app to aid you with all information about your portfolio, then look not beyond CryptoCompare.
The platform will analyze and provide you with insights about your crypto assets and the crypto market through news, forum posts and articles. Its features include:
Excellent Asset Support: the site supports more than 5000 assets allowing you to diversify your portfolio.
Accessibility of The Platform: CryptoCompare is available as a site, and its app version is only available for android devices only.
The Timeline Function: displays supported coins and the milestones they have achieved to guide you in your asset investments.
Pros
Avails a wealth of cryptocurrency information for users.
Supplies the users with instant updates.
Cons
ACCOINTING.com
ACCOINTING.com is one of the best crypto portfolio trackers today. It can generate your cryptocurrency tax report in addition to updating you on the price and the market trends. Its other features include:
The Lists Feature: calculates your market performance relative to other market players to help you know your share in the crypto market.
Alert System: features customizable widgets to help you set alerts on portfolio price changes and the latest cryptocurrency news.
Compatibility: works well with android and iOS devices, meaning you can access its applications if you own any of these devices
Pros
Can avail the tax information for your portfolio.
Great for determining market performance.
Cons
Not automated. You have to insert all the information about your portfolio manually.
Cryptopanic.com
If you are looking for a cryptocurrency tracking app that can update you with cryptocurrency price changes at the convenience of your coach, then Cryptopanic.com is the way to go. The app is available for Android, iOS, and desktop.
If you download the pro version of the app, you will gain access to the news feeds feature and the coin alert feature. The premium version will also avail you of the charting feature, with which you can analyze the asset prices and make an informed investment decision.
Pros
Excellent news interface
Versions for Android, iOS and desktop are available.
Cons
The premium version is very costly.
Coin Manager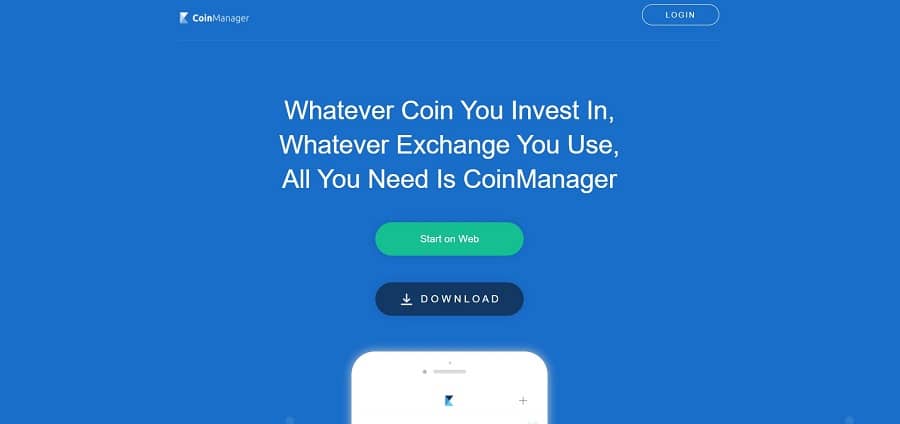 The Coin Manager tracks the changes in crypto prices and identifies the price differential between different exchanges. The presence of API links to Bittrex, Coinone, Binance and Bithumb means that you can trade directly via the app.
You can download the app on an android or iOS device to access its services in the palm of your hand.
Pros
Allows for in-app trading.
The arbitrage function is an added advantage.
Cons
Increase Your Crypto Portfolio Value by Trading Coins
The above crypto trackers can equip you with real-time cryptocurrency prices, with which you can place a higher value on your portfolio. Though crypto trackers are safe, some investors will hesitate to use them due to fear of losses.
If you feel overwhelmed by the apps, you can price your assets the easy way; by using the copy trading feature from eToro.
The copy trading feature will allow you to copy what the top performers in the cryptocurrency market are doing and then implement the same practices on your portfolio.
Using the copy trading feature alongside the app predictions to price your portfolio will give you an upper hand in the cryptocurrency market.