Did you know that you can earn millions of income by trading on cryptocurrency? Various crypto interest accounts allow investors to earn best interest on crypto savings. The interest in crypto holdings allows investors to earn income that they would otherwise have lost if they held the crypto in anticipation of a bullish market.
On the other end, trading in crypto apps can be risky. The different crypto accounts offer support for different crypto assets. They also provide different interests on savings and loans depending on the asset held.
That said, you need a deep understanding of what different accounts can offer to make a sound investment decision lest you end up in regrets. So what are the highest interest bearing accounts?
This guide reviews the top 14 crypto interest accounts in the market. Read through it to select the one you prefer most.
Before we delve into the subject, let's first answer some crypto interest-bearing accounts-related questions below.
What Is A Crypto Interest Account?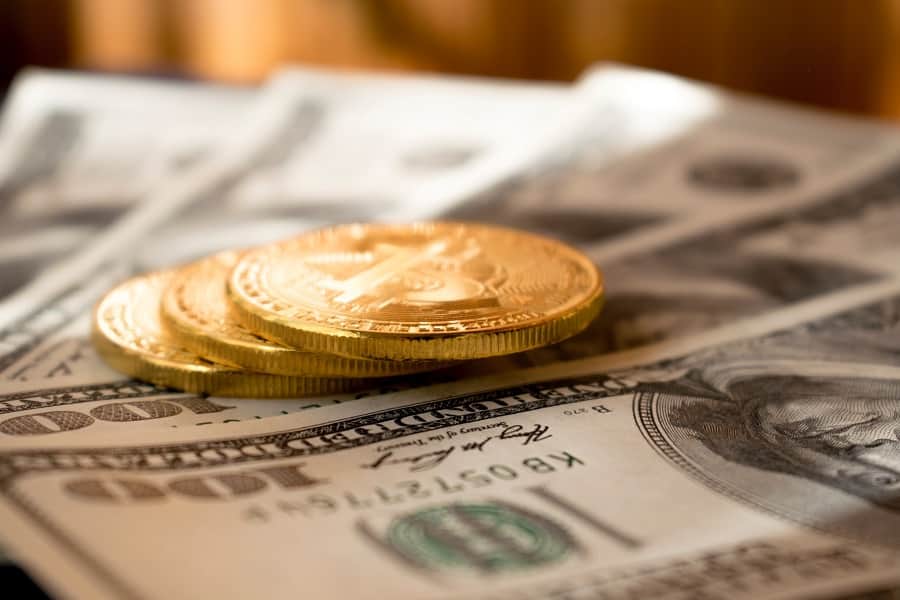 A crypto interest account refers to a storage space within your wallet that accumulates all interest on crypto savings and loans. Its primary purpose is to store your crypto and the interest earned on it.
Your funds will start to earn compound interest after depositing them with the account. You can withdraw your deposit plus the interest income whenever you wish or as the account stipulates.
What Is Crypto Saving Accounts Vs. Regular Saving Accounts?
In a crypto savings account, the saved amount is lent to customers who are willing to repay the loan amount at an interest. The federal insurance cover does not secure the funds stored in these accounts.
Due to this, borrowers should secure their loans using cryptocurrency. In the event of loss or default, the interest account would use the collateral to cover the loan.
On the other hand, a regular savings account is a type of bank account where you can keep your cash safely and earn interest on it. They have limitations on the number of transactions you can make within a month, which is not the case with crypto savings accounts.
Additionally, funds in the regular savings accounts are secured by the federal insurance cover (FDIC), hence making it a safe storage option.
Are Crypto Interest Accounts Safe?
Before answering this question, it's important to know that: Most crypto interest accounts offer their storage services offline to secure the clients' assets against cybercriminals.
Additionally, some account owners' partner with prominent banks and top security agencies worldwide to ensure the security of customers' cryptocurrencies. However, since each account offers a different degree of protection, we can't generalize about the safety of the crypto-based accounts.
How Do You Earn Interest on Crypto?
When you open a crypto interest account and deposit some digital currency like bitcoin, the interest account provider lends your invested cash to third parties at interest. They then credit your account with a percentage of the interest income when the borrower repays the loan.
In essence, the loan process is identical to the bank process. You can learn how to open a crypto account here.
Crypto Interest Accounts Vs. Staking Crypto
As discussed above, the crypto interest accounts generate passive income through lending your stored cash to third parties. The longer you hold your asset in the crypto interest account, the more income you will earn.
You can stake crypto by holding assets in a cryptocurrency wallet. Just like crypto mining, it helps the account network achieve consensus while rewarding you with coins.
The Top 14 Crypto Interest Accounts:
YouHodler
YouHodler is one of the best crypto interest accounts in the market. It allows investors to earn up to 12% interest on their savings. Also, borrowers benefit from the accounts crypto-backed loans with a loan to value (LTV) of up to 90%.
Read our full YouHodler review – Click Here!
Besides loans, the Other Perks of the YouHodler account include:
The Universal Exchange
The account allows investors to exchange stable coins, crypto, and fiat with real-time market prices. You can use the YouHodler sophisticated dashboard to learn how to convert crypto and bitcoin to Stable coins, CHF, GBP, EUR, and vice versa.
This feature can save you from the risk of buying crypto and stable currencies from other platforms.
Interest Income on Savings
YouHodler will pay you interest for Holding PAXC, USDT, BTC, TUSD, HUSD, PAX, XRP, BNB, XLM, ETH HT deposits.
If you don't have any of the above assets in your portfolio, you can use the exchange feature to convert your assets to any of the above and then open your savings account. Stable coins like TUSD, USDT, GBP, and HUSD can earn you up to 12.7% interest.
If you want to generate revenue with YouHodler interests in savings click here.
The MultiHODL Feature
The YouHodler multiHODLfeature advocates for 80% savings and 20% investment in riskier projects. The feature allows the investors to maximize their profits while minimizing the level of risk.
YouHodler Security
The YouHodler crypto operations are approved by the cryptocurrency security standard (CCSS), and PCI security standards secure its credit card operations. That is not all. The customers' funds are securely kept with the Ledger Vault Platform. This qualifies YouHodler as a reliable platform.
BlockFI
BlockFI is the best crypto interest account on Reddit.  It is also the best crypto interest account Canada. BlockFi allows you to gain up to 8.6% interest on your savings. The account can also let you take loans against your crypto assets instead of selling them for fiat.
Benefits of Blockfi Account
The Blockfi Interest Account (BIA) allows you to earn interest on BTC, LTC, PAX, USDC, ETH and GUSD. Its interest rates on savings include 5.5% LINK, 5.25% ETH, 6.5% LTC, 5% PAXG, 9.3% USDT, 8.6 USDC, 8.6% GUSD, 8.6% BUSD, 8.6% PAX AND 6% BTC.
All the account holders are only allowed to make one free withdrawal per month, and any other withdrawal will attract a fee, depending on the asset type and the amount withdrawn.
The app also allows borrowers to USD loans against their crypto deposits. The minimum amount of loan on the platform is $ 5000, with a loan to value ratio of 50%. That implies you have to pledge 50% of your crypto deposits as collateral. The platform uses p2p lending, where they connect the lenders to borrowers.
Another notable thing about Blockfi is that it ensures the clients' funds by partnering with Gemini Trust Company. As experts in the field, Gemini agencies keep the money in cold storage, meaning they are free from online threats.
MyConstant (US based)
Myconstant is a P2P lending platform, which connects borrowers to lenders. What makes the app stand out among others is that it allows investors to earn from diversified interest rates on their savings.
How Does This Interest Bearing Account Work?
The account allows investors to state the amount they wish to invest, the interest rate, and the repayment term. After the declaration, they should transfer the amount to the savings account in either USD or stable coins.
After the money is reflected in the savings account, the account's complex algorithm matches a borrower's amount. Once the borrower accepts the loan, the investor starts earning immediately.
When seeking a loan, the borrower should state the loan they intend to apply for, the interest rates, and the term. They should also state their collateral for the loan and send it to BitGo. And then wait for the accounts algorithm to match them to a lender. The loan is disbursed in either stable coins or USD.
Interest Rates
Investors get up to an 8% annual percentage rate (APR) on any terms starting from 30 days. And all loans are backed by 150% collateral. They can also earn up to 4% APY on flexible deposits. And, the minimum investment amount starts from $50
Security
The borrowers' assets are protected by BitGo security until they repay the loan. However, the support may be sold to cover the loan amount should they default the repayment. In essence, the investors' assets are secured by crypto collateral and Ethereum smart contracts.
Lendabit
The Lendabit is a peer to peer crypto lending account that has its roots in Hongkong. The account is known for its simple-to-use interface and excellent processing speed for loans and other processes.
The Lendabit provides an annual interest rate of 12% to lenders. The amount of interest earnings per day is the ratio of the loan amount to the number of days in a year (360) multiplied by the current interest rate.
The account partners with BitGo security to ensure the clients' assets' safety. In addition to that, the account further uses multi factor authentication to prevent intruders from accessing the investor funds.
Binance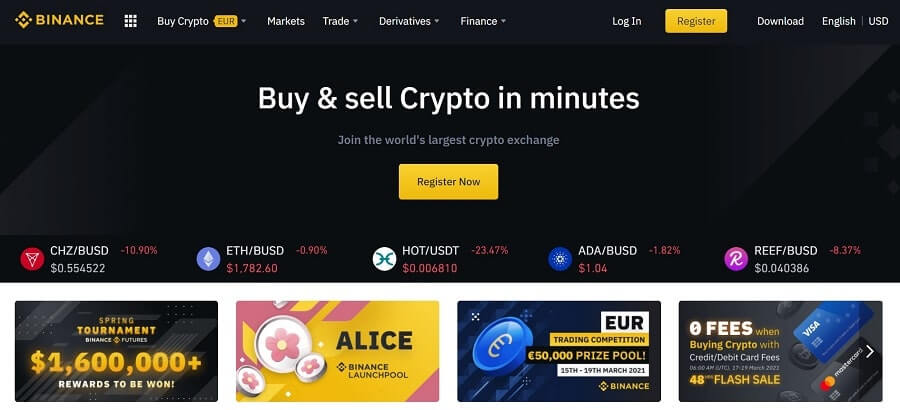 Binance is another cryptocurrency interest account that allows investors to trade in more than 45 cryptocurrencies. Examples of the supported coins include Ethereum, Litecoin, Binance Coin, and bitcoin. Binance enables investors to earn in multiple ways, including:
Flexible Savings
With the flexible savings account, you are allowed to earn interest on your crypto portfolio with the flexibility to redeem them at any time. Some of the estimated annual yields on flexible savings include BUSD at 2.44%, DASHH at 1.83%, and USDT at 2.11%.
Locked Savings Account
Unlike the flexible savings account, the locked savings account does not allow you to redeem the funds at any time. You can only withdraw your funds after a stipulated term ends. The longer the term, the more interest earnings you will get on your savings. For instance, you can get 6.79% on USDT, while BUSD offers 7.42% at the time of writing.
Typically, the terms could take between 7 and 90 days, and the number of coins you can invest on a locked savings account is limited. They include USDT, ONE, BUSD, COCOS, and EOS.
Staking
Binance allows you to stake between 24 different cryptocurrencies, whose interest returns vary from one crypto to another. The ones with the highest returns include LOOM with earning potential of 10-12%, KAVA with a potential of 14 to 16%, and ZIL with 8 to 10%.
Nexo
Nexo is one of the world's most regulated and top crypto interest accounts. The account aims at maximizing the investors' earning potential by offering high yield products, tax-efficient and instant lines of credits.
Additionally, the account provides up to $375 million in custodial insurance and top security to secure the clients' assets.
Due to these handy features, the account has accumulated more than 5 billion assets and more than 1million subscribers from 200 states.
Nexo Earnings
Nexo allows you to earn more than a 5% base rate on all savings accounts comprising BTC, LTC, XRP, ETH, BCH, TRX, XLM, LINK, EOS, and PAX. And APY OF 6% if 10% of your Holdings comprise of NEXO tokens.
That is not all about the NEXO rates; the account adds an extra 2% interest on all your assets when you opt to withdraw your earnings in Nexo tokens. This brings us to 8% interest on crypto savings and 12% interest on fiat and stable coins.
Celsius network
Celsius Network is one of the best crypto interest accounts in the UK. Through it, borrowers can obtain loans against their crypto assets. Also, lenders interest on their savings for letting their assets be lent to borrowers.
Borrowing
Celsius Loan Example
Loan Amount
$1,000
Loan duration
12 Months
Loan to value ratio LTV
50%
Collateral for the loan
Bitcoin (0.0581 BTC)
Payment Type
USD cash
APR
$89.50
Total Interest
  8.95%
Cost Per Month
$7.46
The Celsius account allows you to borrow in either cash or the Celsius tokens (CEL). And all loans need collateral backing that is usually higher than the loan amount. The table below can give you a glimpse of how much you should pay as collateral.
However, if you change your payment type from cash to CEL, your APR would reduce to 6.27%, translating to a total interest of $62.7.
Again, your interest would also reduce when your loan-to-value ratio decreases. For instance, if your LTV reduces from 50% to 25%, your APR would decline to 0.7%, amounting to a total interest of $7.
The account supports more than 30 crypto coins that you can use as collateral.
Celsius Interest Earnings
The Celsius account allows you to earn weekly interest earnings on your crypto Holdings. However, the rewards differ depending on the asset held and whether you are in the US or not.
If you stay outside the US, you can qualify for the one-Celsius loyalty tier. The loyalty tiers pay reward bonuses depending on what percentage of your crypto assets are in Celsius tokens. The table below explains how the tier thing works.
| | | |
| --- | --- | --- |
| CEL Loyalty Tier | CEL Token Holdings | Bonus Rewards |
| Bronze | 5%-10% | 5% |
| Silver | 10%-15% | 10% |
| Gold | 15%-20% | 20% |
| Platinum | > 20% | 30% |
Unfortunately, the CEL earnings are not available for the US portfolio holders meaning they cant enjoy the best rates that Celsius network offers.
Coinbase
If you are looking for a safe and easy way to trade and manage your cryptocurrencies, look not beyond the crypto interest account Coinbase. Coinbase is one of the best crypto interest account in New York. It boasts more than 25million subscribers and supports 32 countries.
The US-based platform is easy to use. Clients can use the cryptocurrency app to trade Bitcoin, Ethereum, Bitcoin cash and Litecoin without converting their transaction currency into another currency. The account supports more than 25 cryptocurrencies depending on the country.
Coinbase Interest Earnings
Using the decentralized finance (DEFis) available in the Coinbase wallet, the Coinbase investors can lend crypto or earn interest on their crypto savings.
The borrowers should back their Defi loans with a percentage of their crypto holdings. The interests on loans range from 0.03% to 4.17%, depending on the asset being lent out.
They mostly traded assets include ETH, DAI, BAT, WBTC, USDC, REP and ZRX.
Crypto.Com
Cypto.com is another crypto interest account where you can buy and sell more than 100 cryptocurrencies with more than 20 fiat currencies. Another notable thing with the account is that you can pay with or withdraw your funds using a bank wire transfer or debit/credit cards.
How to Earn Interest on Crypto Using Crypto.Com Account
Investors can earn interest income by holding crypto assets in their crypto.com account. Below is a tabulation of some of crypto.com's interest token rewards on holdings. You can learn more about the interest rates here.
Crypto.com Interest reward token
Name
Interest rate %
Crypto.com coin
6
Bitcoin
6.5
Ethereum
5.5
Tether
12
USD coin
12
DAI
12
PAXO standard
12
True USD
12
True AUD
12
True CAD
12
True GBP
12
Iicon
3
Litecoin 1
3
Bitcoin cash
3
Kyber network
3
Algorand
3
COSMOS
3
Crypto.Com Security
Are you concerned about the security of your assets? Crypto.com has you covered. The account holds 100% of the user assets in cold storage, under the custody of Ledger Vault insurance.
Additionally, the account management team capitalizes on hardware security modules and multi-factor authentication to secure the clients' funds against third party theft or physical damage.
Gemini
When looking for a US-based cryptocurrency interest account that has never been hacked, you might probably think of Coinbase. However, that would only happen if you are not aware of the FDIC backed Gemini interest account.
The Gemini app boasts of a simple user-interface and excellent security for user assets.
Additionally, the account supports more than 20 cryptocurrencies, including its currency-Gemini dollars currency (GUSD). As such, the investors can capitalize in trading in any of the above coins.
Gemini Interest Earnings
With the newly introduced Gemini earnings feature, investors can earn up to 7.4% interest on different assets tokens. Can you earn interest on bitcoins? Yes. You can earn up to 3.05% on bitcoin with Gemini app.
What is more is that customers can access all the above services via their mobile devices as the account has app versions for Android, iOS operating systems. They can also access the account via desktop.
Account Security
The Gemini app has FDIC protection for USD. That means any wise investor can secure all their assets by converting their holdings into USD. Besides the FDIC, the account uses a KYC process coupled with multi-factor authentication to ensure top-notch security for their withheld assets.
Linus
Are you tired of almost zero bank interest income, and you are looking for an alternative interest account? If yes, then Linus is your next partner. Being a crypto interest account, Linus allows you to convert your fiat into crypto and then use the crypto assets to open a savings account.
The good thing about Linus's savings account is that it earns you high interest on savings (up to 4%) while securing your funds.
Linus Interest Earnings
After creating your savings account, Linus uses its P2P algorithm to direct your funds to borrowers. They then lend the money to the borrowers at interest. When the borrower repays the loan, they transfer a percentage of the interest to your savings wallet.
Linus Security
You don't have to worry about the security of your asset holdings. Before lending your assets out, Linus requires all borrowers to provide a crypto backing for the loan. The account also keeps your saved assets on cold storage hence securing online attacks.
Outlet Finance
The credit behind outlet finance goes to Patrick Manfra, who invented the app. He aimed to connect crypto investors with an alternative crypto interest account where they could safely buy and sell assets.
The account connects the crypto borrowers to the Celsius network, where they can get crypto loans. That said, the outlet finance is not a saving account, but rather, it acts as a Celsius network agent.
Interest Earnings on Outlet Finance
The outlet finance uses Ethereum smart contracts and Celsius network to lend digital dollars to borrowers. By doing so, it credits the investors account with 6% interest.
Despite the high 6% interest earnings, the expert investors in the field skip the services offered by outlet finance and directly save their assets with the Celsius network.
They maximize their chances of high-interest income since some Celsius transactions can pay up to 10% interest.
Security for Investors' Assets
Since outlet finance is not a savings account, it uses the over collateralized loans strategy to secure the investors' assets.
For instance, you need a $50 loan. In that case, outlet finance may charge you 120% of the loan amount as collateral for the loan. The account will use the amount to recover the investor's assets should you default to pay.
Coinloan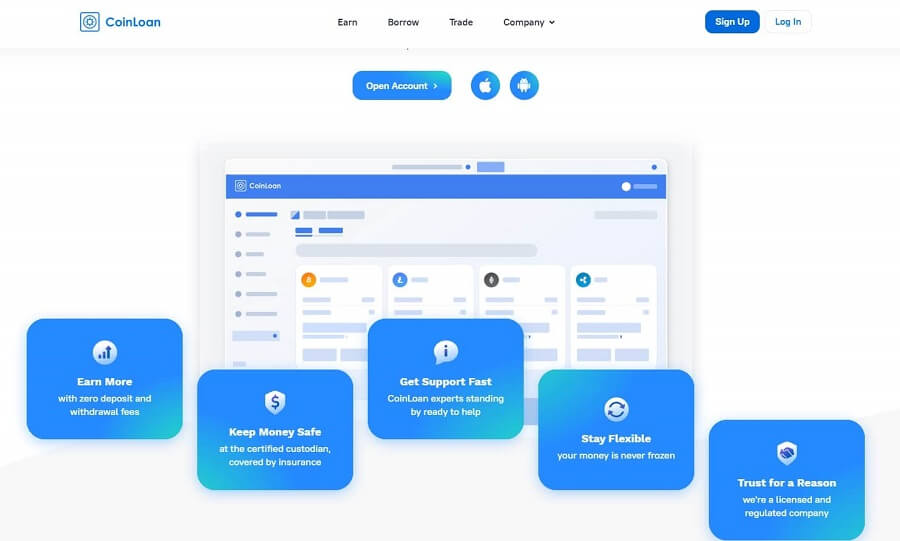 If you are looking for a crypto interest account that can offer you the flexibility to trade on fiat, cryptocurrencies and stable coins without risking your assets, then a coinloan is the place to be. Coin loan is the best platform for storing your idle assets.
The account's supported cryptocurrencies include Monero, Ripple, Ethereum, Bitcoin, Litecoin and BCH. On the other hand, the account also supports stable coins including, USDC, EURS, TUSD, USDT, PAX, and BUSD.
That is not all. The Coinloan app also supports traditional coins like RUB, USD and EUR.
Coinloan Interest Income
The investors in the Coinloan account get 6.4% interest per annum on bitcoin, while stable coins and fiat earn them 10.3% per annum. You can convert your other crypto assets into bitcoin or regular currencies using the exchange feature and then send them to earn interest on your savings.
Further, the Coinloan account offers free services, could it be deposits or withdrawals and registration. It also allows for flexibility on savings.
Asset Security
The Coin loan partners with BitGo security to ensure the safety of the investors' assets. This is in addition to the crypto backing, which is charged for loans.
Blockchain.Com
Blockchain.com is an exciting account for crypto that supports bitcoin, bitcoin cash and Ethereum. You can also trust the account for bitcoin data charts and the latest market alerts. The account also allows you to buy the supported assets using fiats like GBP, USD, TRY and EUR.
The Interest Income on Blockchain.Com
The investors in the blockchain.com account earn 7.81% interest on bitcoin, 10.23% on Ethereum and 2.262% on bitcoin cash. If you don't have the above assets in your portfolio, you can convert your assets to any of the above using the exchange feature.
Data and Asset Security
To secure your information, blockchain.com requires you to complete 3-step verification. To verify your email address, enter the two-factor authentication and type a secret word. This prevents any intruder from entering your account.
Conclusion
All the above crypto interest accounts can allow you to buy and sell crypto. However, for the sake of high returns and trading convenience, you should select high interest crypto accounts savings with the best user experience like YouHodler and Blockfi.
If you prefer to invest with the P2P lending platforms, kindly consider those requiring collateral backing for loans.