The explosion of e-commerce has brought on a multitude of software and services intended to make selling easier. Clickfunnels is one of those sales funnel software which promises to make it easier for businesses to market and sell their products.
Clickfunnels makes it easy for marketers and business owners to build effective sales funnels quickly even without prior knowledge or experience. It is supposed to be beginner-friendly and packed with valuable features.
Clickfunnels is worth checking out if you are searching for tools to significantly improve your sales. This review will tackle the basics, including answering questions like "What is Clickfunnels?" and "Does Clickfunnel work?" as well as discussing the features along with Clickfunnels pros and cons.
What is a funnel in business?
Before tackling the details of what exactly is Clickfunnels, it is important to understand the concept of funnels in business. A sales funnel is often mentioned when it comes to digital marketing. From the word itself, a sales funnel is a strategy to convert visitors to your sites into buyers.
The conversion of visits to sales is what differentiates a landing page vs funnel. Imagine a funnel with its wide top that filters substances into a narrow tube at the bottom. A sales funnel generally includes the following steps:
Awareness Phase
Interest Phase
Evaluation Phase
Decision Phase
Purchase Phase
Remarketing Phase
Repurchase Phase
This same structure is applied with performance funnels in which browsers of your site are led into a multi-step process to get them to complete a purchase.
Creating a funnel requires skill and precision, but when implemented correctly, it can transform your business into a well-oiled machine for sales. You can create funnels for generating leads, selling a product, creating an event, etc.
While there are industry professionals promising results via one funnel away challenge or an entire course for it, the Clickfunnels app promises to make this entire learning process easier even for beginners.
What is Clickfunnels: A quick guide on what it is and how it works
Russell Brunson and his collaborators created Clickfunnels in 2014 and turned it into a multi-million-dollar business with over 100,000 active members.
What is Clickfunnels used for? A basic Clickfunnels description is that it is an all-in-one funnel builder for people who cannot design or code web pages. Traditionally, business owners would hire programmers and web designers to create sales funnels, but with Clickfunnels, you can do it yourself.
Clickfunnels provide funnel templates which are optimized to help you market your online business and translate it into sales. There are a lot of Clickfunnels tutorials online to get you started. Eliminating the middleman can save you some bucks and precious time you can use for other income-generating activities.
In the real world, selling products entail reaching out to your target customers, generating leads, building relationships, informing them about your products, and using your skills of persuasion to get them to buy what you are selling.
Clickfunnels has simplified this process online by whittling it down into 3 steps: (1) choose a template for your industry and product type, (2) select the page design you want, and (3) make the necessary changes and publish.
With this tool, you can create an entire funnel from landing pages and sales pages to payment page. So, when you ask what is click funneling? The goal with click funneling is to make shopping easier and more seamless so you can generate more sales for your business. The best thing is that you can manage this entire sales funnel with an easy drag-and-drop interface. No coding skills required.
Aside from creating pages, ClickFunnels is an all-inclusive sales and marketing platform. Digital marketers can use this tool for affiliate marketing, email marketing, web hosting, and business management. Taking all these features in one dashboard optimizes the entire digital marketing process.
Given all the features and the promise of a beginner-friendly tool, what does Clickfunnels cost? ClickFunnels costs from $99 per month with a 14-day free trial so you can test out the features.
Who needs Clickfunnels?
In a saturated market, you need the best tools available to you to gain a competitive advantage. That said, every e-commerce business needs Clickfunnels for added advantage, from Clickfunnels for restaurants to Clickfunnels for chiropractors.
Since Clickfunnels is a sales-focused tool, it is built for the following industries and type of businesses:
Authors, coaches, consultants, speakers
Business to Business
Marketing agencies
Professional services (e.g. Clickfunnels for service business)
Retail and e-commerce stores
Small- and medium-sized companies
Of course, Clickfunnels for ecommerce can adapt to any business mode—big or small. Clickfunnels for local business can be the key to expanding your operations to cater to a bigger market. By using Clickfunnels, you can fast-track your sales and marketing strategies and boost your return on investment (ROI).
Clickfunnels for B2B
What are Clickfunnels for Business to Business (B2B) agencies? When you are marketing your products or services to other businesses, establishing sales funnels is crucial for exposure and continued growth. Because there are numerous marketing and advertising platforms available online, it may be hard to choose the tools for your trade.
Clickfunnels simplifies this process, especially for small business owners who may not have the resources or skills to implement sophisticated strategies. What does Clickfunnels do? It evens out the playing field for big-budget corporations and small-time business owners.
ClickFunnels as an all-in-one platform covers all your marketing and advertising needs, including audience awareness strategies, e-mail marketing, webinars, and shopping cart functionalities.
B2B users can also use Clickfunnels A/B testing tools for funnel hacking. This is a great tool for competitor analysis which involves incorporating elements from your competitor's marketing strategies and split testing them against your own funnels to help you come up with the best strategy.
Clickfunnels benefits
If you are asking why do I need Clickfunnels? Here are several Clickfunnels benefits for B2B and other industries:
No complicated coding needed
If you search "why choose Clickfunnels," you will find that their biggest selling point is the drag-and-drop funnel builder which does not require coding skills. Since you do not have to hire an IT expert or programmer, you will save a ton of money.
Instead of spending hours learning what is click funneling, Clickfunnels already has optimised ready-to-use templates with built-in checkout pages for your sales funnels. These templates have customisable designs at your disposal as well.
Streamlined e-mail marketing
The usual answer to what is Clickfunnels used for is that it is a funnel builder, but it is more than that. Clickfunnels features include advertising and marketing tools such as e-mail marketing. Clickfunnels can  send automated messages for your customers as well as send notifications each time your product is purchased from affiliated stores.
Instead of using a third-party software or platform, you can use Clickfunnels directly for building relationships with your clients and customers.
Free training and user support
For less tech-savvy users, do not worry because Clickfunnels provides free training and resources to get you started. You will also find industry-specific best practices and funnel examples. Their team likewise provides valuable marketing insights and strategies for your specific industry.
If you have other concerns, Clickfunnels provides more user support through e-mail or over the phones. You can join their Facebook group to brainstorm with other Clickfunnels users or consult with them about any funnel-related questions. The community of Clickfunnels users is a great resource for out-of-the-box marketing ideas and how to implement them.
Clickfunnels real-life examples
Wrapping you head around what is a sales funnel, Clickfunnels in particular, will be easier with specific Clickfunnels examples and success stories. Here are some of real-life examples.
ClickFunnels Success Story #1: BassBuds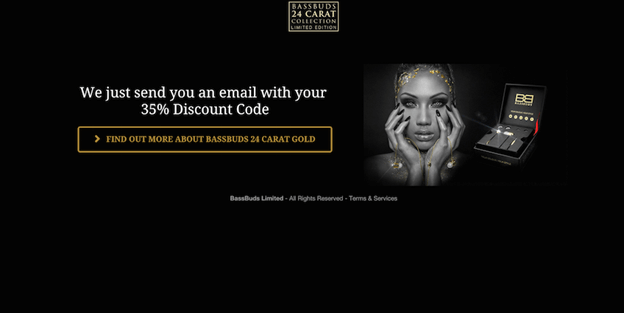 BassBuds, a headphones company endorsed by the like of popular singer Sam Smith, is one of the many businesses using Clickfunnels with great results. A sample of a sales funnel built by ClickFunnels is a sleek black landing page featuring the product, a discount code, and a link to give the visitor more information about the product.
ClickFunnels Success Story #2: Burrus Research
Burrus Research, founded by bestselling author and innovation advisor Daniel Burrus, uses Clickfunnels to promote his products and services. In their landing page is Burrus on stage with a short, snappy text highlighting Burrus expertise. Below that are curated links to his well-received speaking engagements and a call to action. Burrus specifically commends the simple Clickfunnels interface with easy integration options for his WordPress website.
ClickFunnels Success Story #3: A Sweet Pea Chef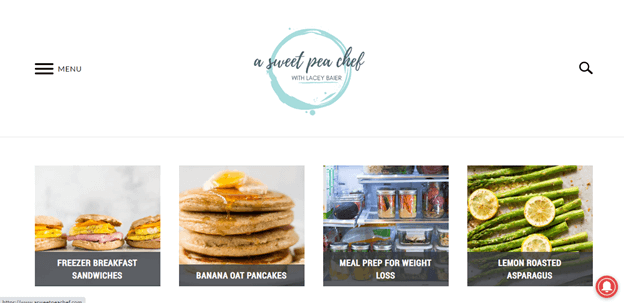 Another successful Clickfunnels implementation is A Sweet Pea Chef by food blogger Lacey Baier. The landing page has a minimalist aesthetic showcasing attractive thumbnails of her healthy recipes. Visitors can easily scan the images for whatever they are craving and be led to the perfect content.
For Baier, ClickFunnels is value for money given that it replaces multiple third-party software applications with an all-in-one system.
ClickFunnels Success Story #4: Kaelin Poulin AKA Lady Boss
If you Google Clickfunnels success stories, Kaelin Poulin, also known as Lady Boss, will most likely be mentioned. According to multiple websites, Poulin she learned about funnel hacks training from Russell Brunson. She used Clickfunnels to grow her fitness business and expanded into fitness courses and other business ventures. By using the tool, she was able to earn millions from her services.
ClickFunnels Success Story #5: Marriage Solutions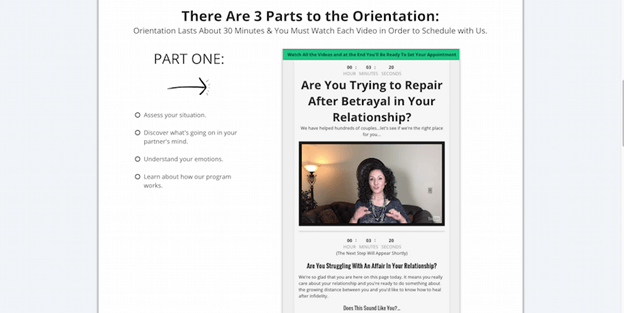 Clickfunnels usually feature effective funnels on their site to provide inspiration and ideas to other users. One such example is Marriage Solutions which provide in-person counselling services for married couples in trouble.
Their highly effective sales funnel starts with page showing text highlighted in red with a photo of a happy couple. It has four clickable buttons which will take you to a description of their services.
This simple welcome page then funnels visitors into four different types of counselling so that visitors are given more specific solution to their issue, be it intimacy issues or pre-marital counselling. This more specific and guided approach make it easier for people to opt-in to their services.
Features of Clickfunnels
Let us discuss the specifics. What does Clickfunnels offer? You det optimised templates, customisable and mobile-friendly designs, tracking and A/B testing features, e-mail marketing functionalities, custom domains, and easy integration.
Optimised templates
With Clickfunnels, you can build a sales funnel using a drag-and-drop editor based on industry-optimised templates suitable designed for different types of businesses. These templates can be easily customised in their user-friendly interface.
Mobile-friendly designs
Since Google operates on a "mobile first" model, Clickfunnels ensures the funnels built using the tool are mobile-friendly. Not only that, The Clickfunnels app supports different devices with varying screen resolutions.
A/B testing and tracking
For competitor analysis, you can use the Actionetics tool and the A/B testing capability within the Clickfunnels. These features help you track the activities of your website's visitors. You can compare activities on split tests to determine which funnels are more effective and additional insights provides can ultimately help improve customer engagement and boost your bottom line.
E-mail marketing
The Clickfunnels system lets you automate various email and SMS messages for customer retention, lead generation, etc.
Custom domains
Clickfunnels will automatically assign a free subdomain for your funnel or landing page, but if you choose to, you can use an existing domain or enter a custom domain for better branding and website traffic.
Easy integration
An integration API makes it easy for users to integrate Clickfunnels to their website like WordPress, etc.
You can check out Clickfunnels wiki for in-depth discussions about these features.
Clickfunnels free trial
How much does Clickfunnels cost? The good news is there is a Clickfunnels free trial for 14 days so you can try out the features before committing to a monthly plan. You can try out click funnel templates free with no obligation.
Clickfunnels pricing 2020 starts from $97/month. Clickfunnels offer three packages:
Clickfunnels Basic at $97/month with a 14-day free trial
This package includes:
Sharing funnels with other Clickfunnels users
20 funnels
100 pages
3 payment gateways
1 team member
Chat support
Unlimited contacts
3 custom domains
Funnel Flix: Courses and trainings
20,000 monthly visitors
All page templates
All funnel types
A/B split testing
Email integration with third-party outreach manager
This excludes:
Follow-up funnels
Weekly peer review hackathons
Backpack (affiliate program management)
Actionetics (email marketing and automation platform)
Clickfunnels Platinum ($297/month)
This plan includes:
Sharing funnels with other Clickfunnels users
Unlimited funnels
Unlimited contacts, pages, funnels, monthly visitors
9 custom domains
3 team members or sub-users
9 payment gateways
Priority chat support
All page templates
Unlimited follow-up funnels
Funnel Flix basic + hours of additional trainings and courses
A/B split testing
Email integration with your existing CRM
All funnel types
You also have access to:
Weekly Peer Review Hackathons
Backpack
Actionetics
Two Comma Club X ($2,497/month)
This plan includes:
Share your funnels with other users
Unlimited funnels
Unlimited pages, contacts, and monthly visitors
27 custom domains
10 team members or sub-users
27 payment gateways
Unlimited follow-up funnels
All funnel types
Funnel Flix basic + hours of additional trainings and courses + more
All page templates
A/B split testing
Email integration with other CRM software
Priority chat support + VIP phone support
You also have access to:
Backpack
Weekly Peer Review Hackathons
Actionetics
There is also a Clickfunnels collective pricing plan which is reserved for advanced Clickfunnels users. This pricing plan makes you eligible for Two Comma Club Coaching, live events, and live phone support.
Clickfunnels affiliate program
For enterprising users, you can sign up for the Clickfunnels affiliate program. Clickfunnels affiliate review generally contain rave reviews and success stories. This section will tackle how to make money as a Clickfunnels affiliate.
What is Clickfunnels affiliate? Affiliates of Clickfunnels are people who receive commissions for new customers the bring in.
How does Clickfunnels affiliate program work? Affiliates get a commission whenever people sign up and become a monthly paying user using their referral link. In addition, affiliates can earn 40% on every product sold to the person they referred.
Inside the Affiliate Portal are all the tools you need to promote Clickfunnels. These are ads, copy, graphics, banners, emails, and other tools, as well as your personal Affiliate ID Links for each product promotion. You will also get your own "sticky cookie," so you do not miss out on any sales commission.
The Clickfunnels affiliate program can be a business on its own with an "Affiliate Bootcamp Army" for people who are serious about making money. Not only that, but you also get access to the ClickFunnels "Affiliate Avengers" community on Facebook where you can interact with other enterprising individuals who can tips and strategies.
According to Clickfunnels, the program has paid their affiliates commissions amounting to more than $100,365,342.
Monthly subscriptions from your successful referrals could mean a steady stream of income monthly as your subscribers keep using the platform. This requires its own relationship management strategies and engagement.
Clickfunnels: Reddit pros and cons
Clickfunnels review and fast funnels review on Reddit are mixed. While there is a consensus that Clickfunnels is legit and that yes, app Clickfunnels is safe, various Clickfunnel review range from positive to words of caution.
Clickfunnels Pros
One positive Reddit Clickfunnels review mention their appreciation of the company's decision to continually invest in developing the product further. User ArtisticMorning wrote that each week or so, there would be "some new feature or improvements" without drastically changing the drag-and-drop functionality or simple funnel building process.
When it comes to Clickfunnels promise of an easy to use or simple interface, some Redditors vouch for this. Sir_Funk shared that in that sense it is "a pretty good platform" especially for people who are not tech-savvy or do not have someone who can build sites for them.
Another positive review has to do with training. Sir_Funk wrote, "Their marketing training is pretty great." This can be advantageous in the long run since the tool together with training can make you more adept at growing your e-commerce site.
Clickfunnels Cons
Many Redditors are put off or wary with Clickfunnels due to the sheer amount of affiliate reviews as well as aggressive and ubiquitous promotions online. One user noted how the "hype-centred community" make it sound like an MLM scheme.
Beyond the messaging issue, some user found Clickfunnels to be limiting and may be better for some industries than others. For instance, user Gas_Station_Owner wrote that while Clickfunnels is "very easy to use," it can be difficult if you have a lot of products to promote. Hence, it can be "easier to sell informational product on their platform."
Clickfunnels can also be pricey. While user killerfrown shared that Clickfunnels are good to use for "non techie guys," he found that WordPress plugins can do the same job and can be a better route since you own your site.
User maaniguard wrote that while it can be the best choice for users intending to sell a "course or any physical or digital [product]," it is also "not cheap" and "is actually kind of overpriced." Whether or not it is value for money will depend on how you maximise this tool for your business.
Is Clickfunnels worth it?
Based on Clickfunnels customer reviews, this all-in-one platform may not be the right tool for everyone.
Clickfunnels is worth it if YOU:
are in e-commerce
have a specific product or service to sell (e.g. information products or retail)
offer professional services  (e.g. coaching or other personal services)
are a marketer or an affiliate marketer
are a B2B agency
Clickfunnels is NOT worth it if YOU:
operate a small business without the budget for a $97/month tool
are too busy to learn a new tool or attend training sessions
are not selling products or promoting ay product or service
have no need for a sales funnel
Clickfunnels alternatives
What is better than Clickfunnels? Here are some alternative tools to check out.
LeadPages has drag-and-drop page builder like Clickfunnels with customisable designs with a cheaper monthly price ($37/month). However, it is not sales-driven and does not include analysis or marketing tools.
Thrive Themes ($19/month) is similar to Clickfunnels in terms of drag-and-drop building capabilities and helps drive sales with split testing functionalities, etc. It may require more technical knowledge.