Are you tired of spending countless hours creating ad creatives and ad copies for your business? Look no further and keep reading this AdCreative.ai review, the advertising platform powered by artificial intelligence.
With AdCreative.ai, businesses can access creative resources and design experience to create effective ads for marketing campaigns and other formats.
The AI-powered software uses machine learning to provide insights and optimize designs, making it a valuable tool for advertising on Google and other platforms. AdCreative.ai also offers a wide range of images to choose from, making it easier to create visually appealing ads.
AdCreative.ai is an advertising platform that uses AI to generate high-quality social media creatives and banner advertising designs quickly. Say goodbye to hiring expensive designers or struggling with design apps. With AdCreative.ai, anyone can be a creative genius in just a few clicks for social creatives.
Here's a quick demonstration on how fast this tool can generate dozens of high-converting, optimized ads, compared to regular tools like Canva.
So why waste time on tedious ad creation when you could be focusing on growing your business? With AdCreative.ai, you can easily create quality ads for Google AdWords, Facebook Ads, Instagram and social media creatives. Try it out today and see how it can revolutionize your advertising game.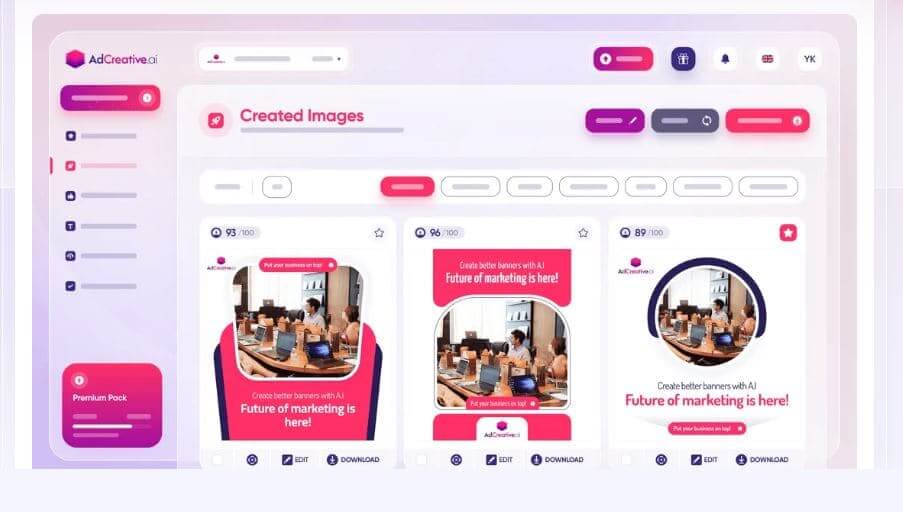 What is AdCreative.ai?
AI-Powered Ad Creatives Made Easy
AdCreative.ai is an innovative advertising platform that uses artificial intelligence (AI) to help businesses create high-quality ad creatives quickly and easily for Facebook Ads and Google AdWords. With its machine learning algorithms, it analyzes existing ad campaigns and generates new ideas for ad creatives, while also offering ads credit to eligible users.
How Does AdCreative.ai Work?
AdCreative.ai is an advertising platform that analyzes a business's existing ad campaigns to identify patterns and trends in successful ads.
It then uses these insights to generate new ideas for ad creatives that are tailored to the business's goals and target audience, including those for Google AdWords and banner advertising.
The tool offers a range of customizable options for banner advertising, such as selecting different image styles or colors, so businesses can fine-tune their advertising campaigns until they're just right.
Once complete, the social media creatives can be exported in various formats suitable for different platforms like Facebook, Instagram, Google Ads, and more. Additionally, businesses can get an honest Adcreative review to ensure their ads are effective.
AdCreative.ai Review: What Do People Think of It?
Businesses that have used AdCreative.ai praise its advertising platform as an efficient software for creating high-quality social creatives quickly. The tool has also been credited with improving the effectiveness of campaigns by generating fresh ideas based on real-world data analysis.
Some users have noted that AdCreative.ai's advertising platform offers a software solution for creating quality ads. While the initial setup process for campaigns can take some time, once you've entered your campaign data into the system, generating new ad creatives becomes a breeze.
Some users have found that using AdCreative.ai's software has allowed them to save money on outsourcing design work or hiring additional staff members for their marketing team.
Who is AdCreative.ai Suited For?
AdCreative.ai is the perfect software for any business looking to streamline its advertising creative process while still producing high-quality social creatives.
Small businesses without dedicated marketing teams can benefit from using the tool as it eliminates the need for extensive design experience or knowledge about advertising best practices on social media.
The pros of using AdCreative.ai include reducing time and effort spent on creating effective social media ads.
Larger companies with established marketing departments can use AdCreative.ai as an advertising platform to supplement their existing efforts by generating fresh ideas for ad creatives that align with their brand's goals and values. The social media software can help businesses create compelling ads that resonate with their audience while providing excellent customer service.
Pros and Cons of Using AdCreative.ai
Pros:
AdCreative.ai is an AI-powered tool designed to assist businesses in creating social media creatives quickly and effortlessly.
The primary advantage of this tool is its time-saving and effort-reducing capabilities.
It automates the ad creation process, allowing businesses to produce high-quality content in minutes.
The tool provides support throughout the process, further reducing the workload.
AdCreative.ai offers a wide variety of templates suitable for different social media platforms, including Facebook, Instagram, Twitter, and LinkedIn.
This feature simplifies ad design, eliminating the need to worry about technical details.
The tool's benefits include not only time and effort savings but also the production of high-quality, attention-grabbing ads.
AdCreative.ai can also be used to create visually appealing and engaging email campaigns.
Cons:
AdCreative.ai has limited customization options for ad creatives, which can be a disadvantage for some users.
Despite offering a variety of templates, the software provides few opportunities for further customization.
The software's focus on speed and efficiency may come at the expense of extensive customization.
AdCreative.ai Offers a variety of ad templates to choose from
AdCreative.ai is a software vendor that offers a wide range of pre-designed templates for creatives in different industries and niches. Whether you're running an e-commerce store or promoting your services on social media, you can find a template that suits your needs on this platform.
These templates come with pre-written copy suggestions based on your inputs during the creation process. This feature ensures that your creatives are compelling and well-written without requiring much input from your end. With our creative resources and software, you can easily create ads that resonate with your audience. Plus, our honest adcreative review ensures that your ads are effective and engaging.
Features and Pricing of AdCreative.ai
Range of Features for High-Quality Ad Designs
AdCreative.ai is a software platform that offers a wide range of features to create high-quality ad creatives. It provides users with access to thousands of pre-designed templates and millions of stock images, which can be customized according to their needs. The platform also allows users to create ads for various social media platforms such as Facebook, Instagram, Twitter, YouTube, and LinkedIn. With an account on AdCreative.ai, users can receive support from the platform's team to enhance their ad designs.
AI-Powered Technology for Unique Ad Content
One of the most significant pros of using AdCreative.ai is its AI-powered software that helps generate unique ad creatives in seconds. This feature enables users to create personalized ads for social media based on their target audience's interests and preferences.
The AI algorithm analyzes the user's input data and generates multiple options for ad design and copy, making AdCreative.ai an essential tool for anyone looking to create effective social media ads.
Affordable Pricing Plans
AdCreative.ai offers affordable pricing plans starting at $21 per month for the basic account. This plan includes unlimited downloads, access to all software features, and up to 10 exports per month.
For more advanced creatives features like team collaboration, custom branding, priority support, etc., users can choose from other pricing plans ranging from $44/month to $111/month. These plans are available for a minimum of three months.
AdCreative.ai also offers a 7-day free trial for users to test out its creative software features before committing to a plan. During this trial period, users have full access to all the platform's features without any restrictions or limitations, as well as dedicated support to enhance their experience. This free trial allows potential customers an opportunity to explore the platform's creative capabilities fully before making a purchase decision.
How AdCreative.ai Helps in Digital Marketing
Why We Need Quality Social Media Posts?
Social media has become an essential part of our lives, and it's no secret that businesses have also started to leverage these platforms to reach their target audience through ad campaigns. The success of any social media ad campaign depends on the quality of the creatives being shared with the audience. Therefore, creating quality social media creatives and ad copy is crucial for businesses to attract and engage their customers using creative resources.
How AdCreative.ai Can Help You Create Engaging Social Media Posts?
AdCreative.ai offers pre-designed templates for various social media platforms such as Facebook, Instagram, Twitter, LinkedIn, and more. These creatives are designed by professional graphic designers who understand what works best on each platform. Our software recommends the best templates to use for your brand, increasing the likelihood of engagement and success.
With AdCreative.ai, you can customize these templates according to your brand's needs with just a few clicks. You can add images, text overlays and choose from a wide range of fonts and color schemes to make your media post stand out. Your plan will also includes customer service features that add value to your creatives.
Integrating with Google Ads & Analytics
AdCreative.ai seamlessly integrates with Google Ads and Google Analytics, providing marketers with an easy-to-use software that helps them create high-quality creatives. With real-time tracking, you can monitor the overall rating ease and performance of your advertising campaigns, saving you time and money.
Client Satisfaction with AdCreative.ai
High Overall Rating for Quality Ads and Creative Design
AdCreative.ai has been praised by clients for its high-quality creatives and innovative software design. Customers have commended the platform for its ease of use in creating visually appealing and effective ads that are more likely to resonate with their target audience. The use of AI technology in the ad creation process has resulted in top-notch output, which is reflected in the overall rating given by clients.
Positive Feedback on User Experience and Customer Service Response Times
AdCreative.ai's overall rating for ease of use and software has been commended by clients who find it easy to navigate and create creatives. The platform's intuitive interface makes it simple for users to create ads without any technical skills or prior experience. Likelihood of customer satisfaction has increased due to prompt customer service response times, which have been praised by clients who appreciate assistance when encountering any issues or have questions about using the platform.
Value of Analytics and Ad Credit for Google Ads and Facebook Ads
Clients have also expressed appreciation for AdCreative.ai's use of analytics to provide insights into ad performance. By tracking metrics such as impressions, clicks, conversions, and engagement rates, clients can optimize their ads for better results.
Additionally, the software's creatives have received an overall rating ease from clients, making it a valuable tool for advertising needs. Furthermore, AdCreative.ai offers ad credit for both Google Ads and Facebook Ads accounts, allowing clients to save money while boosting their advertising efforts.
Is AdCreative.ai Worth the Investment?
In conclusion, AdCreative.ai is a valuable software investment for businesses looking to streamline their creatives and overall digital marketing efforts. With its AI-powered features and user-friendly interface, it offers a range of benefits that can help improve ad performance and save time, adding to its overall value.
The pros of using AdCreative.ai software include its ability to generate high-quality ad creatives quickly, its customizable templates, and its cost-effectiveness compared to hiring a professional designer.
Additionally, the use of customer service features adds overall value to the platform. However, there are also some cons to consider such as limited customization options and potential issues with copyright infringement.
Overall, the features and pricing of AdCreative.ai make it an attractive option for businesses of all sizes. Its software ability to assist in creating effective creatives through automation is particularly useful for those who lack design skills or have limited resources.
Client satisfaction with AdCreative.ai software has been overall positive, with many praising its ease of use in generating high-performing creatives. However, some users have noted limitations in terms of design flexibility.
If you're considering investing in AdCreative.ai, we recommend giving its creatives a try for yourself. With a free trial available on its official site and affordable pricing options, it's worth exploring how this tool can benefit your business's overall digital marketing strategy. Additionally, make sure to use AdCreative.ai's customer service features to get the most value out of your investment.
FAQs
1. Can I use my own images in AdCreative.ai?
Yes, you can upload your own images or choose from the platform's library of stock photos and creative resources. Creatives can make use of the customer service features value to enhance their overall experience.
2. How long does it take to create an ad using AdCreative.ai?
Depending on the overall complexity of the ad creatives and customizations made, ads can be created in as little as a few minutes using AdCreative.ai's automated features. The use of these features can greatly improve the efficiency of ad creation.
3. Does AdCreative.ai offer any customer support?
Yes, customer support is available through email or live chat during business hours. We also provide assistance with ad campaigns and ad copy to ensure their effective use and overall success.
4. Can I cancel my subscription at any time?
Yes, subscriptions can be cancelled at any time without penalty. If you have questions about how to use customer service features or want to know the value of our service, please reach out to us. Our ad copy is designed to showcase the best features of our subscriptions, and our ad campaigns are targeted to help you find the perfect plan for your needs. You can manage your subscription easily through your ad account.
5. What types of ads can be created using AdCreative.ai?
AdCreative.ai is an amazing tool that can help you create various types of ads for your business. With AdCreative.ai, you can create Facebook ads, Instagram ads, Google ads, and many more.
You can choose from different ad formats such as pot size, landscape size, vertical size, story size etc. This tool allows you to customize your ad to fit your brand by adding your logo, text, and other design elements. You can also select the target audience you want to reach with your ad.
This means that you can tailor your ad to the specific interests, demographics, and behaviors of your target audience. By using AdCreative.ai, you can create high-quality ads that will engage your audience and drive conversions for your business.
Who can use AdCreative AI?
AdCreative AI can be used by a variety of entities that require effective ad creation. This includes:
Startups: They can utilize the platform's strong AI capabilities to generate creatives that convert, optimizing their ad creation process.
E-commerce stores: The platform's machine learning model can generate custom creatives or banners for an entire product catalog.
Marketing agencies: Agencies can generate ad creatives and banners that have up to 14x better conversion rates for their entire client portfolio.