AI Ads Generators are the future of marketing. Don't get left behind!
If there's one thing we all know about running a successful business, it's this: advertising is not just a necessity—it's a cornerstone of growth. But let's not sugarcoat it—crafting unique ads and promotional material can become a black hole for your time and budget.
But luckily there's a new, smarter way to keep your promotion game strong, without all that hassle. Let me introduce you to the game-changer: AI generatated ads.
AI ad makers leverage machine learning in advertising to create persuasive and tailored ads optimized for conversion. There is a higher chance people will click on them and buy your product or service.
These smart tools aren't just making waves in 2023—they're revolutionizing the way we approach advertising, slashing time and costs while boosting effectiveness.
AI Ad Generators for Facebook, Instagram, Google Ads, YouTube, TikTok
We've handpicked some of the finest AI ad generators currently on the market, grouped them into three categories that will cover all your advertising needs.
We're talking about top-of-the-line AI Ad copy generators for writing killer ad copies that'll have Google and Facebook users clicking like crazy.
Then we have AI Banner generators (or Ai ad creative generators) to craft eye-catching banners for your website and especially ad creatives for your Facebook, Instagram, Linkedin campaigns that hook visitors right away.
And, to top it off, I've also found the crème de la crème of AI Video ads generators to make social media video ads that will stop those scrolling thumbs in their tracks.
AI Ad Image and Banner Ad Generators
Now, let's first look at the creative landscape of AI-powered image and banner ad generators. These intelligent tools are proficient in painting your ideas into engaging visuals that arrest attention and spark action. From AdCreative's high-converting designs to Neuroflash's psychology-infused images, we're about to explore a world where creativity meets technology.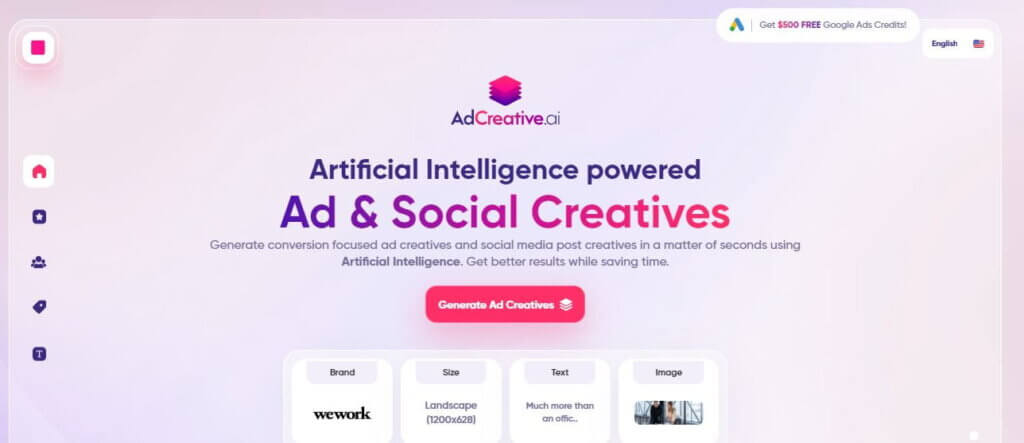 A one-stop solution for creating compelling ad images and banners, AdCreative brings data-backed AI into the picture (pun intended!). If speed and conversion are your prime concerns, this platform could be your perfect companion because it uses AI for ad optimization.
Key features include:
AI-backed designs: Ensuring that your ads aren't just visually appealing, but also highly converting.
Fast and efficient: Create ad images and banners in just a few minutes.
Wide applications: Use these designs for your website, social media, emails, and more.
Read our full review of AdCreative here.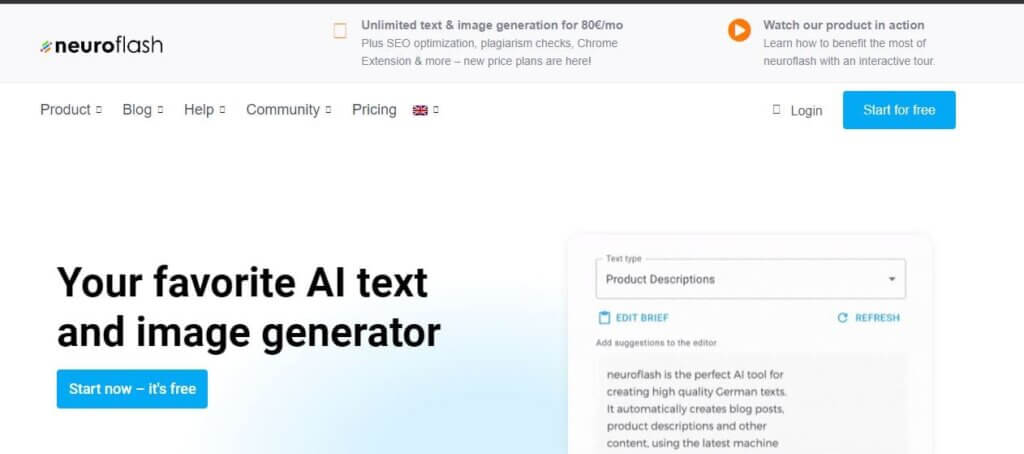 Neuroflash merges the power of AI with psychology to craft engaging, emotionally resonant ad images. If you're looking to dive beyond aesthetics and create images that truly strike a chord with your target audience, Neuroflash could be your go-to tool.
Key features include:
Emotionally intelligent image creation: Neuroflash uses AI algorithms to create images that resonate with specific emotional triggers of your audience.
A diverse array of templates: This ensures you have an eye-catching design for every occasion.
SEO-friendly: Images are not just created for aesthetic appeal, but also with search engine algorithms in mind.
AI Ad Copy Generators:
Take the guesswork out of Ad Creation 🎯 Anyword is the AI copywriting tool that leverages over 1 BILLION ads & marketing assets to generate and optimize your copy to achieve your goals.
Anyword is an innovative AI copywriting tool with two powerful features: the Data-driven editor and the Copy Intelligence platform. The Data-driven editor generates optimized copy by learning from your previous marketing content and combining it with Anyword's extensive data set. This ensures you receive top-performing, tailored content predicted to perform well based on your unique business needs.
On the other hand, the Copy Intelligence platform lets you set brand rules and manage your messaging, tone, and target audiences. You can even create custom AI models trained on your best marketing campaigns, ensuring your copy is both brand-consistent and performance-optimized.
In a nutshell, Anyword offers a highly efficient copywriting solution, leveraging the power of data and AI to produce high-performing, brand-aligned content tailored to your specific goals.
Key Takeaways:
Anyword is an AI tool revolutionizing copywriting with data-driven, intelligent features.
The Data-driven editor creates optimized content based on your past performance and business needs.
The Copy Intelligence platform ensures brand consistency while optimizing for performance.
Anyword leverages AI and data to deliver top-performing, tailored copy that resonates with your audience.
It's an efficient solution for marketers and businesses looking to scale content and improve results.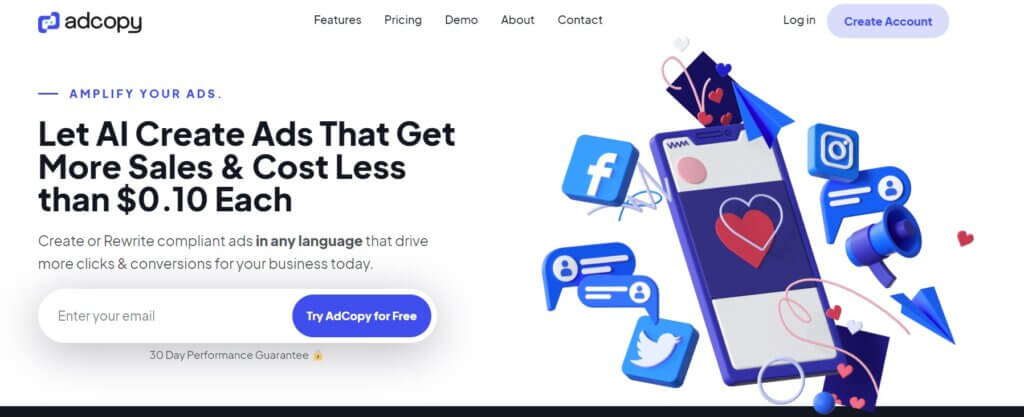 AdCopy.ai is your go-to AI-powered ad creation tool. Perfect for businesses, eCommerce brands, individuals, and agencies that want to drive more clicks, sales, and traffic with their ad copy. AdCopy.ai is designed to create or rewrite compliant ads in any language that drive more clicks & conversions for your business.
Key features include:
AI-powered ad creation: AdCopy.ai uses advanced AI models to generate high-quality ads that are compliant and conversion-focused. It's constantly improving its models based on usage and performance data.
Creativity Amplifier: AdCopy.ai allows you to control the degree of creativity in your ad copy. You can tell the AI your desired level of creativity, and it will deliver.
Trusted by Top Marketers: AdCopy.ai is trusted by world-class direct response marketers. It can generate immaculate copy for any offer or business.
Chrome Extension: AdCopy.ai offers a Chrome extension for rapid in-window ad creation. You can easily copy and paste the generated ad copy straight into your Ads Manager.
Full Customization: With AdCopy.ai, you can tinker with ad creativity, copy structure, tonality, and more to craft the perfect ads.
Conversion Optimized: AdCopy.ai is modeled for direct response marketing and driving more sales.
Rewrite Ads in Seconds: You can swipe competitors' ads or create new copy based on your old winners for endless ads.
Cost-Effective: With AdCopy.ai, there's no need for a $7000 copywriter. It can replace your expensive copywriter and never asks for an extra allowance.
Experience the power of AI in your ad campaigns with AdCopy.ai.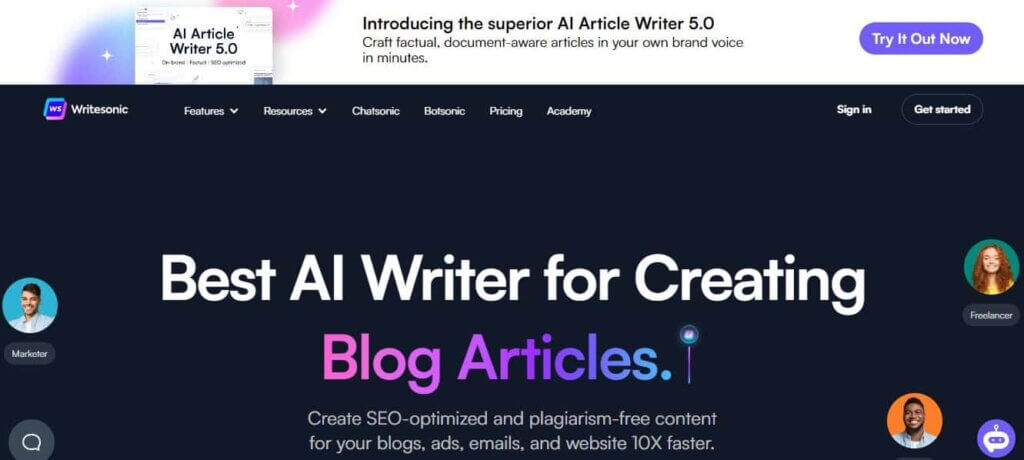 Writesonic is like that savvy, speedy copywriter you've always dreamed of having on your team, but in a cost-effective, AI-powered package. This tool uses advanced AI algorithms to produce high-quality, conversion-focused ad copy, making it an invaluable asset in your marketing toolkit.
Key features include:
A variety of copywriting templates: Whether it's ad copy for Facebook or Google, blog intros, or product descriptions, Writesonic is versatile in its offerings.
Linguistic diversity: Multilingual support ensures that your brand message resonates across different geographical and cultural boundaries.
SEO-friendly: It's designed to optimize your content not just for humans, but for search engines too, helping your ads rank higher and get seen by more people.
Time-saving: Within minutes, you'll have professionally written copy ready to go.
Trial option: Experiment with Writesonic's features before making a commitment, with its free trial offering.
6. Copy.ai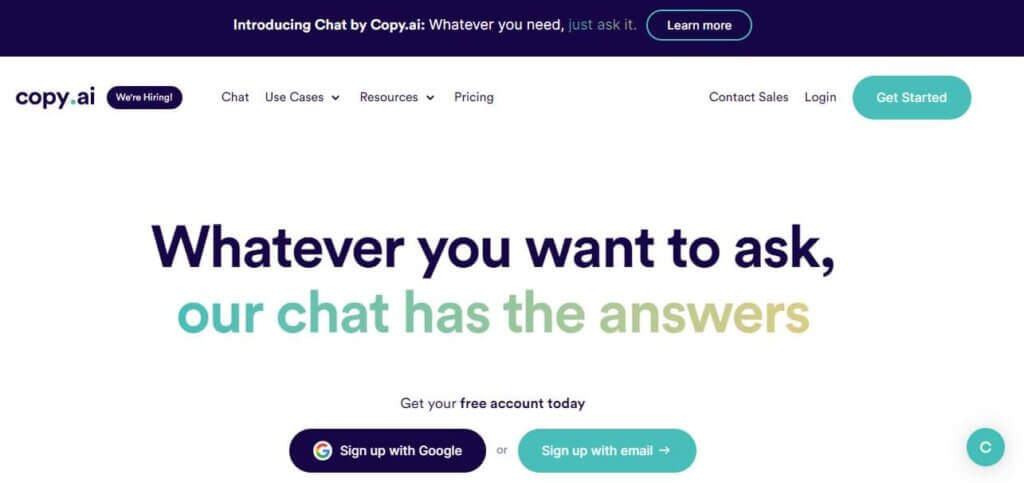 Want to generate ads without burning a hole in your pocket? Copy.ai is your perfect companion. This AI tool takes your inputs, spins it around, and voila—ads tailored for social media and search engines that will resonate with your target audience.
Key features include:
Instant ad copy generation for various platforms like Facebook, Google, and LinkedIn.
Multilingual support with over 29+ languages.
Access to over 90+ copywriting tools to elevate your marketing campaigns.
Capability to produce more than just ad copy: think blog posts, product descriptions, emails, and so much more.
A free plan with a generous offer to generate up to 2,000 words each month.
AI Video Ads Generators
Let's now delve into the final, but equally important category: AI Video Ads Generators. When it comes to captivating your audience, nothing beats the dynamism and engagement of video content. Let's introduce the front-runners in this realm – InVideo, Synthesia, and Veed.io.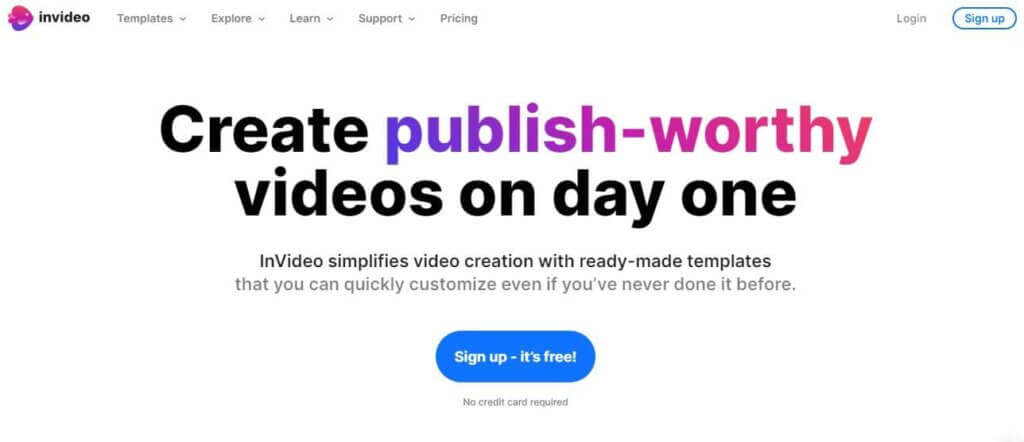 Stepping onto the stage first is InVideo, an innovative AI-powered platform that's transforming the way businesses approach their video marketing strategies. If you're seeking a harmonious blend of simplicity and powerful features, InVideo might just be the tool you've been looking for.
At its core, InVideo is designed to empower businesses of all sizes to create high-quality, engaging video ads, irrespective of their video editing expertise. The platform prides itself on a user-friendly interface, making it incredibly easy to navigate. Whether you're a seasoned video editor or a beginner dipping your toes in the waters of video ad creation, InVideo ensures a seamless experience.
What sets InVideo apart is its extensive library of professionally designed templates. With thousands to choose from, you're sure to find one that perfectly aligns with your brand's aesthetics and campaign goals. This massive assortment not only kickstarts your creation process but also provides a great source of inspiration, encouraging you to experiment with different styles and formats. This way, you can continually surprise your audience with fresh, engaging content.
Moreover, InVideo's versatility shines through its multi-purpose functionality. The platform empowers you to create videos tailored for a myriad of platforms and use-cases. Be it riveting videos for social media platforms like Instagram, Facebook, or TikTok, informative video content for your website, or engaging clips for your email marketing campaigns – InVideo's got you covered.
Its social media-friendly features, such as aspect ratio adjustments and platform-specific templates, ensure that your content fits perfectly on any given platform. Plus, with InVideo, you can create various types of video content including promotional videos, listicles, ads, testimonials, video presentations, and much more.
In essence, InVideo is more than just a video ad creator – it's a comprehensive video marketing solution that adapts to your needs, enhancing your brand's storytelling while ensuring you capture your audience's attention effectively.
Key features include:
User-friendly interface: You don't need to be a video editing whiz to create stunning video ads.
Extensive template library: Choose from thousands of professionally designed templates to kickstart your creation process.
Multi-purpose: Create videos for a variety of platforms, be it social media, your website, or email marketing campaigns.
HeyGen harnesses the power of AI to turn plain text into compelling videos, featuring lifelike avatars. Ideal for those who want to avoid the hassle of traditional video creation while still achieving professional results.
Key features include:
Text-to-video conversion: Simply input your text and let HeyGen's AI work its magic, creating videos featuring realistic avatars.
Customizable avatars: You can choose from a wide array of avatars or even create an avatar exclusive to your brand.
Multilingual: Generate videos in over 120+ languages, making it a fantastic tool for global marketing.
Veed.io offers an intuitive platform for creating, editing, and enhancing your video ads. It's an all-in-one video creation tool that makes the process of creating engaging video content simple and efficient.
Key features include:
Easy-to-use video editing tools: Create, trim, filter, and add subtitles to your videos effortlessly.
AI-powered transcriptions: Automatically generate subtitles for your videos.
Multi-format support: Whether you're creating video ads for Instagram stories or YouTube, Veed.io supports a variety of video formats.
Each of these tools has its unique strengths and capabilities. Depending on your specific needs, one may be more suited to you than the others. Remember, the key to successful video marketing is not just the tool you use, but also the story you tell.
10. PowerAdSpy – an AI-powered ad intelligence platform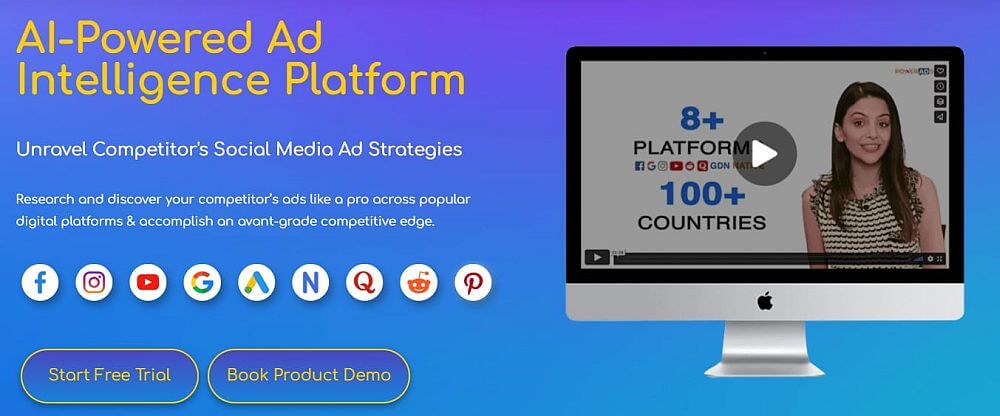 And last but definitely not least, discover an invaluable tool which will give you a huge advantage when creating ads on any platform : PowerAdSpy.
PowerAdSpy is an AI-powered ad intelligence platform and your secret weapon in the competitive world of ads. Discover winning strategies, replicate the best performing ads and skyrocket your ROI. It's not just a tool, it's your ticket to online advertising dominance.
PowerAdSpy keeps you updated on the trends of the ad industry as well as provides an efficient observation of your competitor's ad campaign over multiple platforms. They have a huge database of over 30 million ads.
PowerAdSpy integrates artificial intelligence (AI) to enhance its ad intelligence platform. The tool utilizes advanced algorithms and AI to generate insights from its vast ads inventory.
This AI-driven approach allows users to research and discover competitor's ads with greater precision and efficiency. By leveraging the power of AI, PowerAdSpy ensures that users receive relevant and actionable insights, enabling them to make informed decisions and achieve a competitive edge in the advertising landscape.
Users can easily bookmark their favorite ad concept.
Here are the main benefits of this ultimate ads spy tool:
Expansive Ad Database: Access the world's largest collection of social media ads, offering a comprehensive view of the advertising landscape.
AI-Driven Insights: Leverage the power of artificial intelligence to derive meaningful insights from millions of ads, enhancing your ad strategy.
Competitive Edge: Dive deep into your competitors' ad strategies, allowing you to stay one step ahead and capitalize on proven tactics.
Multi-Platform Research: Seamlessly research ads across various digital platforms, ensuring a holistic view of the market.
Strategic Decision Making: With insights from the vast ad inventory, make informed decisions that align with market trends and audience preferences.
No Credit Card Trial: Experience the platform's capabilities without any initial financial commitment, ensuring it meets your needs.
Diverse Contact Options: Reach out for support or queries through multiple channels, including phone and Skype, ensuring timely assistance.
Regular Updates: Benefit from a platform that's constantly evolving, ensuring you're always equipped with the latest features and data.
Expert Ad Services: Collaborate with PowerAdSpy's ad experts to achieve results-driven advertising, optimizing your campaigns for success.
In essence, PowerAdSpy is more than just a tool, it's your strategic partner in dominating the online advertising space.
To Sum It All Up:
That's a wrap on our tour of 2023's top AI ad generators and and AI ad platforms! Let's circle back to our big winners in each category:
For text-based ads, Anyword and AdCopy are your go-to. They effortlessly craft ad copy that resonates with your audience and boosts conversions.
For creating vibrant, memorable visuals, optimized for conversion, AdCreative is one of the best image-based ad generators for your banners and creatives.
And when it comes to video ads, InVideo has your back. From Youtube to TikTok, it's got all your video ads needs covered in a user-friendly package.
In short, these tools let you create eye-catching Ai generated ads without the hassle or the time crunch. They're your ticket to leveling up your ad game. Here's to simpler, more effective ad creation!